Limbaugh: 'Its Entirely Possible A Loser (GOP) Candidate Will Get The Nomination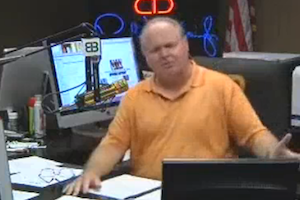 "Thanks to you, my own staff is ganging up on me in here!" said Rush Limbaugh to a caller earlier today. The caller had asked Limbaugh to offer an endorsement to one of the potential Republican presidential candidates so as to "clean up the field," but the host was wavering since no one was inspiring enough passion in him. All he could say definitively was that he wasn't voting for Barack Obama. He'd vote for Elmer Fudd over Obama. Now, that's an endorsement!
"Now, I'm not trying to slither out of this. I'm trying to tell you, as honestly as I can, what if there isn't anybody I'm passionate about? Do you know how hard…Well, I could do that, I could pick somebody but, if I don't have passion- I'm not a liar. I can't come in here and tell you I'm razzmatazz, rolled and ready to go for someone."
The caller pointed out that he didn't need to be truly passionate about someone and Limbaugh's staff appeared to throw in suggestions, but it was all to no avail. Despite a couple "Sarah Palin's better than some of the others" half opinions, Limbaugh could only settle on the fact that the campaign needed to focus on Obama.
"I'll tell you this. Whoever in this field takes it to Obama the straightest and the hardest and the most direct, is who's gonna win. They're gonna have to take it to Obama. This isn't a 'pussy-foot around' type of election. This is not, 'Oh, we've got to worry about what they're gonna say about us, we've got to worry about PR, about charges of racism.' Somebody's got to be willing to take it to Obama. It's going to be about him and four more years of this stuff and we'll see if there's anybody in this field willing to do that."
Once again, it looks like only time will tell in the GOP race.
Check out the clip below:
Have a tip we should know? tips@mediaite.com