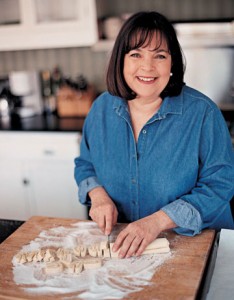 Well here's a bit of news that has shaken me to my very core: Ina Garten, cook book author and host of Food Network's Barefoot Contessa, has steadfastly refused to meet with a child whose special request to the Make-a-Wish Foundation – the organization which grants wishes to terminally ill children – was to cook dinner with her.
The little boy, Enzo, initially requested to meet with Garten last year (or three years ago, according to at least one source), but was told that she was too busy with her book tour. He reiterated his request this year, having dutifully watched Garten's cooking show throughout his battle with acute lymphoblastic leukemia, only to be met with a "definite no" from Garten's people.
That said, the organization still describes Garten as a "good friend" to the Foundation. Garten's reps reached out to TMZ, highlighting the celebrity chef's other philanthropic efforts:
Despite her demanding schedule, [Ina] participates and helps as many organizations as she can throughout the year, helping children and adults like Enzo with life threatening and compromising illnesses.

Unfortunately, as much as she would like to, it's absolutely impossible for her to grant every request she receives.
I choose to believe (since she's my she-ro) that Garten's denim shirts shield nothing less than a heart the size of the Hamptons. And, you know, at least she's an equal-opportunity snubber: Jennifer Garner couldn't even nab a spot cooking alongside the Barefoot Contessa, because she isn't one of the star's "real friends." I can respect that.
Meanwhile, six-year-old Enzo has made a new wish: To swim with dolphins
While cooking with Sandra Lee.*
*JK
Have a tip we should know? tips@mediaite.com