NBC's Dateline: Using Subtle Social Media To Turn Stories Into Trending Topics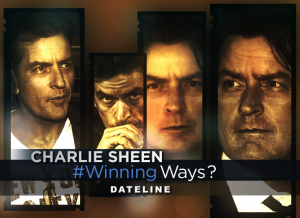 If you simply sit down on a Friday night and watch NBC's Dateline, you're missing out on part of the experience. Increasingly, people are gathering to watch a favorite show like Dateline or CBS's Survivor–and also to talk about what they're seeing, live, via social media. "We're seeing real time communities forming," said Ryan Osborn director of social media at NBC News. Osborn's an in-house evangelist, showing producers, correspondents and others how to use social media–not just to research and report stories, but also to get those stories in front the biggest possible audience.
NBC's TODAY, where Osborn cut his teeth as a producer, has built strong ties to its viewers through Facebook and Twitter, and Dateline is quickly catching up. The nightly newsmagazine recently passed 100,000 fans on Facebook, and Dateline's primary anchor, Ann Curry, is in the big leagues on Twitter, with more than a million followers.
Curry uses Twitter to talk to fans, share breaking news, and occasionally, to get a big story. While Curry was reporting from Japan, she got a tweet from a viewer in the U.S. about a relative, a teacher missing in one of the Japanese towns hardest hit by the earthquake and tsunami. Curry followed up, found the American teacher alive and well, and reunited her with her family live on TV.
"We like the sense of community we're building with our audience," said Liz Cole, executive editor at Dateline, which devoted an hour to the ways people used social media to find lost friends and relatives after the disaster in Japan.
"Where it gets really interesting," Osborn told Mediaite, "is where our journalists use the tools throughout the day, throughout the week…and when the hour airs, the audience is really formed." Osborn and Cole say the taboo about revealing the stories being produced by a primetime news show (for fears of losing a competitive advantage) have given way to the huge benefits of connecting early to a potential audience. When Dateline's Kate Snow was working on the Japan hour, she let her followers know on Twitter: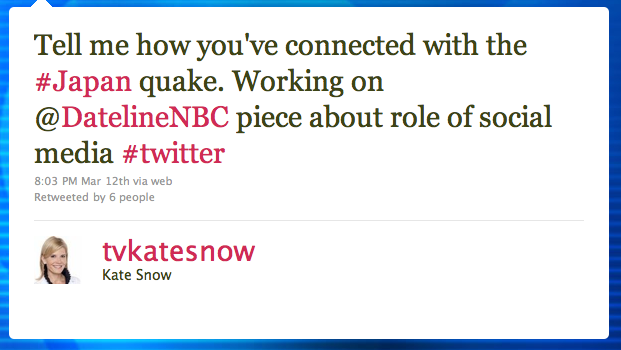 "The value we get from getting out early outweighs any competitive disadvantage," Cole told Mediaite. Connecting early means giving Dateline's fans a chance to spread the word through their own social networks, a viral effect that's proven to grow audiences for traditional media.
When CNN's Piers Morgan landed a last minute booking for an hourlong live interview with Charlie Sheen, there was no time for traditional publicity or promotion. Morgan and his producers put the word out via Twitter precisely four minutes ahead of airtime, and yet in that time, a social media storm brewed, and quickly delivered Morgan his best ratings to date. Word can spread with amazing speed, and there are clearly plenty of people out there who can get the message in time to flip on the TV.
"When we first started, we were talking to an audience of a couple thousand people," said Osborn. "Now it's hundreds of thousands. The growth has surprised everyone."
Huge numbers, but still only a segment of the audience for a Friday night edition of Dateline. The trick, Osborn and his team have discovered, is connecting with the social media savvy without turning off everyone else. So when Dateline aired its own hour on Charlie Sheen, there was no on-air mention of Twitter, but the show's graphics contained the subtle cue: Charlie Sheen: #Winning Ways? The hashtag was a clear message to Twitterfolk, who quickly sent the hashtags "#winning" and "#datelinenbc" into the trending topics for the night.
"I like subtle ways of acknowledging the audience, and if they want to join, that's great," said Osborn.
So when you flip on NBC for Dateline tonight, don't forget your laptop. You don't want to miss the rest of the show.
Have a tip we should know? tips@mediaite.com