Limbaugh Rips 2016 'Coronation': Dems, Media 'Already Having Orgasms Over Hillary'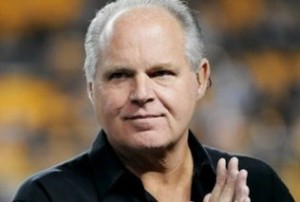 Rush Limbaugh has been listening to all this chatter about Hillary Clinton's all-but-inevitable presidential win in 2016, and he had no idea that this was already a done deal. A "fait accompli," if you will. No idea. None.
RELATED: Gingrich: If Hillary Clinton Runs In 2016, Current GOP 'Incapable Of Competing'
On his show on Monday, he noted Newt Gingrich's observation from yesterday — that the current GOP is "incapable of competing" against Clinton, should she run in 2016 — and was a bit baffled. "I mean, Obama not even been immaculated and they're already having orgasms over Hillary in 2016."
"Out of nowhere, this weekend they have created a narrative," Limbaugh asserted. "I didn't know everybody around the world was telling her she had to run. I didn't know 90 percent of Democrats said it's Hillary in 2016."
Apparently 2016 is already "a fait accompli," he added. "I really did not know over the weekend that the Democrats had anointed Hillary Clinton as their nominee." Yet, those like James Carville and Jodi Kantor seem to be saying just that, Limbaugh argued. So why don't we just go ahead and say that she's moving into the Oval Office in January 2017?
Clinton was a likely candidate, Limbaugh added, but he had "no idea" that the media and Democrats had gone ahead and "anointed" her. "I had no idea that every world leader that she's ever met wants her to be president."
It's all news to him. Limbaugh left work on Friday, and came in today to learn these new developments. It's not even a campaign now, it's a "coronation." He never even saw it coming.
Listen below:

(h/t DailyRushbo)
Have a tip we should know? tips@mediaite.com