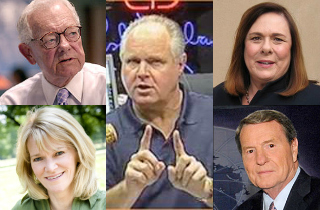 Upon learning of the four scheduled moderators for this year's presidential and vice presidential debates, conservative radio host Rush Limbaugh took to his show to denounce them as "far, far left-wing liberal Democrats."
The first presidential debate, taking place October 3rd in Denver, will feature PBS's Jim Lehrer as the moderator. "Far, far left-wing liberal Democrat," Limbaugh said of the veteran journalist who has been nicknamed the "Dean of Moderators," having hosted eleven debates, most recently one between then-Senator Barack Obama and Sen. John McCain in 2008.
Moving on to the October 16th "town hall"-style debate in Hempstead, N.Y., the radio host bashed moderator Candy Crowley of CNN fame — the first female presidential moderator in 20 years — as a "far, far left-wing liberal Democrat momma."
The third and final presidential debate in Boca Raton, Fl., will be hosted by veteran CBS newsman Bob Schieffer. Once again, Limbaugh derided the former moderator of both Obama-McCain and Bush-Kerry debates as a "far, far left-wing liberal Democrat," adding that Schieffer is a "dinosaur."
The October 11th vice presidential debate in Danville, Ken., will be moderated by the lesser-known ABC News reporter Martha Raddatz, whom Limbaugh called a "far, far left-wing liberal Democrat," before clarifying to his audience that she's an "infobabe for ABC" with "short blonde hair" — "You'll know her when you see her," he added.
"It's the same old media hacks handling the debates," Limbaugh concluded.
Listen to the audio below:
[h/t DailyRushbo]
— —
>> Follow Andrew Kirell (@AndrewKirell) on Twitter
Have a tip we should know? tips@mediaite.com