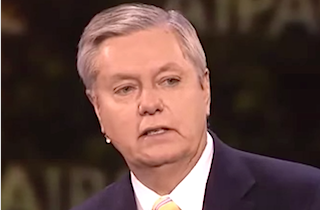 Potential 2016 presidential candidate Sen. Lindsey Graham (R-SC) served as the keynote speaker for the AIPAC New England Leadership Dinner in Boston's Convention Center over the weekend and according to investigative journalist Uri Blau had this to say about Middle East politics: "Al Qaeda, Al Nusra, Al Qaeda in the Arab Peninsula… Everything that starts with 'Al' in the Middle East is bad news."
As Blau points out in his piece and Graham probably could have figured out on his own, "Al" is the Arabic word for "the" and typically precedes proper nouns. For instance, the media company Al Jazeera means "The Peninsula," referring to the Arab Peninsula region.
Does Graham mean to say that all Arab groups and organizations are "bad news" or did he just not know what he was suggesting? We reached out to the senator's spokesman and have not yet heard anything back.
Mediaite readers may be familiar with the senator's frequent "I was just making a joke" defense. After all, that is the tactic he employed after he received flak for saying that, as president, he "would literally use the military" to keep Congress in D.C. for important votes.
But given the pro-Israel audience of potential donors to which he was speaking, one has to wonder if they were laughing or cheering. The report made its way to Israel's left-leaning newspaper Haaretz, which also drew attention to the inherent "linguistic" problems with Graham's comments.
[Photo via screengrab]
— —
>> Follow Matt Wilstein (@TheMattWilstein) on Twitter
Have a tip we should know? tips@mediaite.com