Lindsey Graham Pushes to Cut U.N. Funding After Vote on Israeli Settlements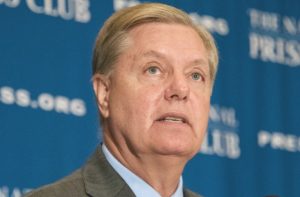 Senator Lindsey Graham is pushing to cut U.S. funding to the United Nations in response to the U.N. Security Council vote yesterday to condemn Israeli settlements.
Before the actual vote on the resolution yesterday, Graham released a statement warning not just the U.N., but any nation that votes in favor of the resolution, about potential consequences:
If UN moves forward with ill-conceived #Israel resolution, I'll work to form a bipartisan coalition to suspend/reduce US assistance to UN.

— Lindsey Graham (@LindseyGrahamSC) December 23, 2016
Any nation which backs this ill-conceived #Israel resolution and receives assistance from the US — will put that assistance in jeopardy.

— Lindsey Graham (@LindseyGrahamSC) December 23, 2016
When the vote took place, the United States abstained and declined to invoke veto power.
In his response, Graham tore into the "reckless" foreign policy of the Obama administration and said, "Regardless of the terrorist attacks they suffer, or the number of rockets fired their way, in the United Nations Israel is always the bad guy."
And he confirmed to CNN that he will be very strongly pushing for cutting funding:
"It's that important to me. This is a road we haven't gone down before. If you can't show the American people that international organizations can be more responsible, there is going to be a break. And I am going to lead that break… I will do everything in my power, working with the new administration and Congress, to leave no doubt about where America stands when it comes to the peace process and where we stand with the only true democracy in the Middle East, Israel."
Graham already has support from fellow Republican senators Ted Cruz and Tom Cotton.
Cruz said in a statement, "I look forward to working with Sen. Graham, and with the incoming Administration of President-elect Trump, to significantly reduce or even eliminate U.S. funding of the United Nations, and also to seriously reconsider financial support for the nations that supported this resolution."
Cotton echoed the sentiment, saying in a statement of his own, "The United States provides considerable financial assistance to the United Nations and Security Council members. The UN and nations supporting this resolution have now imperiled all forms of U.S. assistance."
[image via Albert H. Teich/Shutterstock]
— —
Follow Josh Feldman on Twitter: @feldmaniac
Have a tip we should know? tips@mediaite.com
Josh Feldman - Senior Editor