LISTEN: 'Drunk' Radio Host Slurs And Giggles Way Through Final Live Show, Gets Pulled Off The Air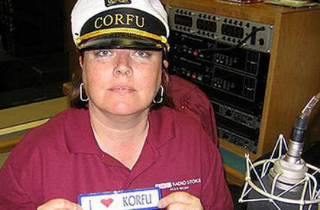 On Saturday afternoon, Paula White was supposed to host her final three-hour show after a six-year stint as the BBC's "Radio Stoke" afternoon DJ. But apparently she took the departure too close to heart, reportedly getting quite tipsy before slurring and giggling her way through the first 30 minutes of the broadcast. She was eventually yanked off the air and replaced on her final day as host.
"For the last time on lunchtime let's sssssay yooooou pick the music," she began the show. "Oh, yeah," she said in a breathy drunken-sounding voice before pushing buttons to play the first tune.
After reading some listener farewell messages, White said: "It's a P-A-R-T-Y because I ssssaid sooooo? Some people will say, 'Oh, thank goodness she's gone.' Other people will go, 'Mmmm, how will I get the dog to sleep?' Because I know that people play this show out for their dogs. How lovely!"
Encouraging her listeners to send in playlist requests, White stumbled through explaining that she's going to throw out her selections because it's her final day. "I've cried about ten times today," she giggled.
One listener suggested, via text, White was intoxicated. She denied it with a giddy squeal: "I'm not drunk, I'm not drunk. I've had a couple of drinks. I'm not drunk!"
She also apparently had difficulty working the boards. While attempting to play Katrina and the Waves' hit song "Walking On Sunshine," she instead played a short commercial jingle. "It's my last day, why's nothing working?" she asked.
Eventually her colleague Dan Siegertsz appeared on the air in White's stead, telling the audience: "Paula is not feeling well and has gone home."
Listen to the antics below (edited without commercials and songs) via the Mirror:
[h/t TheBlaze]
— —
>> Follow Andrew Kirell (@AndrewKirell) on Twitter
Have a tip we should know? tips@mediaite.com