Listeners Wonder If Rush Limbaugh Snuck A Secret Santorum Endorsement Into Today's Show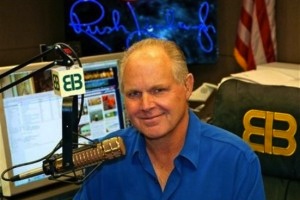 For nearly a year now, the pressure has been mounting for Rush Limbaugh to give an official endorsement in the race for the GOP but, as of yet, he's given nothing. Even today, hours away from the Florida primary, Limbaugh was explaining to a caller that he both can't and won't endorse anyone. However, that isn't keeping some Limbaugh super fans from guessing that a comment he made right at the end of the show might hold a secret endorsement for Rick Santorum.
Here's what Limbaugh told the caller earlier in the show when he was asked for the umpteenth time:
"If I don't shut this down every call is gonna be somebody demanding or trying to pressure me. Snerdley is sitting in there thinking that I can change the outcome of elections if I would just say so. He really believes that. You and I both know that's absurd, but he believes it. I'm just telling you, you could give me two more hours of this, I'm not gonna tell you. It isn't going to happen, because when this is all over, I am not gonna be in a position where my credibility is such that I can't support whoever the nominee is. 'Cause I am not voting Obama. I'm not supporting Obama. So whoever wins this, I can't sit here and pigeonhole myself in such a way that I don't have credibility supporting whoever the eventual nominee is, because Obama is the end result. I'll tell you right now, I'm not voting Obama. I'm the expert. And that's really all you need to know."
Sounds pretty definite, right? I mean, I got that very transcript from a post on Limbaugh's own official website entitled "There Will Be No Rush Endorsement." So, why are the good folks over at The Daily Rushbo posting a video entitled "Did Rush Limbaugh Just Endorse Rick Santorum In FL Primary?" These people know Limbaugh. I mean, they run a website called "The Daily Rushbo" for God's sake. What did they hear?
This:
"I have to remind you, again, that Gingrich debated John Kerry on Global Warming at one point and they agreed on practically every point. Nobody is innocent. Everybody is guilty of some transgression somewhere against Conservatism…except Santorum. See you tomorrow."
Whoa! Sure, Limbaugh didn't endorse anyone, but he knows how powerful sending his listeners off with that thought can be.
My only guess is that Limbaugh does want people to vote for Santorum, however, not necessarily for president. Limbaugh has made it very clear a number of times that he wants this primary race to as long as possible, all the way till the convention. Meanwhile, folks like Marco Rubio are eagerly saying that tonight's results will completely wrap up the nomination. They may be right…but not if Santorum suddenly has a big upswing and throws the whole Romney vs. Gingrich idea out of whack. Perhaps that's what Limbaugh's after.
Either that or he just said it so that stupid bloggers will write posts like this and waste their damn time. That's also incredibly possible.
Listen to the clip and judge for yourself below:
(h/t
The Daily Rushbo
via
The Blaze
)
Have a tip we should know? tips@mediaite.com