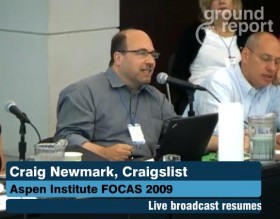 Right now the Aspen Institute is holding a forum called Of the Press: Models for Preserving American Journalism, featuring media thinkers like NPR President Vivian Schiller, Washington Post Executive Editor Marcus Brauchli, Google VP of Search and User Experience (and Very Long Titls) Marissa Mayer, new media pan-guru Jeff Jarvis, MediaNews CEO Dean Singleton, former WSJ publisher Gordon Crovitz and his Journalism Online co-founder Steven Brill, Craigslist founder Craig Newmark, Salon CEO (and the recently newsworthy) Richard Gringras, HuffPo's Katharine Zaleski, Walter Isaacson, of course, and GroundReport's Rachel Sterne, who is overseeing the live webcast of the event on the Ground Report site, embedded below for your viewing convenience. Writes Sterne:
Collectively, the participants at this year's forum represent thousands of newspapers, radio stations and television channels–meaning the corridor conversations at the conference could translate to sweeping strategic changes in American media.
It's an ambitious agenda – you can follow it on Twitter at the #FOCAS09 hashtag, or watch below, or see an actual excerpt of said ambitious agenda below that. It's on autopilot right now, but during the writing of this post we were favored with cameos from Craig Newmark, the IHT's Michael Oreskes and someone whose name escaped me but who doesn't seem to hold with this Twitter thing — he kept on talking about "the care and feeding of the superstars," which I imagine would probably not sit well with some bloggers. His superstar of choice was Jim Fallows, whom he mentioned frequently. Catch up below:
We've got an excerpt of the agenda on the next page. They're keeping these people busy in exchange for their fancy Aspen digs!
Have a tip we should know? tips@mediaite.com