Local Election Day! Watch Happy Seniors Rap About The Mayor Of North Bergen, NJ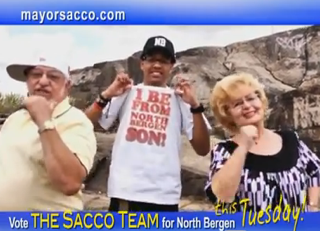 Tomorrow is Election Day in most of Hudson County, New Jersey, the sliver of densely populated metropolis running parallel to the island of Manhattan, and Gawker's Jim Newell did yeoman's work in finding the winner of this year's campaign ad season: a rap music video (?) about the wonders of North Bergen, NJ, featuring terrible grammar, some sick iMovie skills, and more wacky accents than a California gubernatorial debate.
Yes, apparently North Bergen's new motto is "I don't know where you be from, but I be from North Bergen, son!" It's on the guy's t-shirt, so it must be true. Note the irony of touting the town's great education system (full disclosure: I went to North Bergen public schools and it wasn't that bad) and the hard work of Mayor Nick Sacco. And it is true that Mayor Sacco is a "hard worker": he has been known to have up to four simultaneous occupations, including mayor, state senator, school principal, and assistant superintendent of schools. Welcome to North Jersey.
And for those of you wondering why the ad doesn't seem to note any opposition to Sacco, it's likely because there isn't any alternative, or at least any viable ones. Sacco has been mayor for 17 years and has rarely, if ever, faced significant opposition, meaning these ads are made as more of a "get out the vote" effort than an attempt to convince anyone to vote for him, one must assume– which actually explains everything. And for those of you that are wondering what elections look like when they are actually contested in the area, take a look at neighboring West New York. Yes, this is all happening about one mile west of Manhattan. Don't you wish you left the island for something other than Brooklyn now?
Sacco's amazing ad below:

Have a tip we should know? [email protected]