Lockheed Martin Sees Big Stock Hit Following Trump Tweet About Planes Being Too Expensive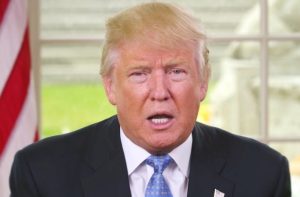 It has been speculated that President-elect Donald Trump's tweets, especially when it comes to targeting specific businesses, may have immediate impacts on the markets. This was something we saw evidence of after Trump complained about Air Force One and his feeling that Boeing was charging too much. Right away, Boeing took a hit of over a billion dollars to its market value.
Well, today we saw Trump go after another aerospace company, and the immediate impact was even greater than what Boeing saw.
Prior to the start of business, Trump sent this tweet:
The F-35 program and cost is out of control. Billions of dollars can and will be saved on military (and other) purchases after January 20th.

— Donald J. Trump (@realDonaldTrump) December 12, 2016
In early trading, Lockheed Martin saw a four percent drop in its share price. By the end of the day, the company had recovered somewhat, but not all the way, finishing down nearly 2.5% and 6.42 per share. According to CNBC, the initial market value hit of the tweet was roughly $4 billion.
It was also noted that other defense contractors saw hits to their stock prices early in the day.
After the tweet, shares of defense stocks Boeing and General Dynamics dipped 0.72 percent and 2.87 percent, respectively. Both stocks later pared those losses as Boeing ended the day 0.43 percent higher, while General Dynamics shares were 0.94 percent lower on the session. Defense ETF's PowerShares Aerospace & Defense Portfolio and iShares U.S. Aerospace & Defense declined more than 1 percent.
Interestingly one person did notice that someone started dumping their Lockheed Martin stock minutes before Trump's tweet went out.
WOW: @cbouzy: Someone started dumping Lockheed Martin stock just before Trump's tweet: Tweet was 8:26 AM EST, LMT dumping started 8:20 AM pic.twitter.com/43hyxd1s5E

— Amichai Stein (@AmichaiStein1) December 12, 2016
All in all, it appears Trump is complaining about the pricetag of the most recent contract between the Pentagon and Lockheed for the F-35, which totals $6.1 billion. The company's spokesman stated that the company invested money to reduce the costs of the fighter program by 60%.
[image via screengrab]
–
Follow Justin Baragona on Twitter: @justinbaragona
Have a tip we should know? tips@mediaite.com