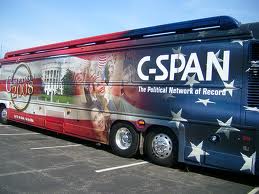 Just as the plot thickens in the mysterious case of the Fox News mole, BuzzFeed announced a sneaky hire of its own. From, er, C-SPAN. Scandalous, right? Turns out said "mole" is rather content at the internet-less offices of C-SPAN, and doesn't really want to rock the boat, and well, isn't really a mole.
RELATED: Fox News Spokesperson Tells Mediaite: We Found The Mole (UPDATE)
The inaugural (and likely final) post from the mole is pretty funny — and dare we say more entertaining than the one from its Fox News counterpart. He/she chronicled the not-so-sensationalist offices of C-SPAN:
There hasn't really been a final straw for me, but people seem interested in "dispatches" from where people work lately. So here I am. We don't really get into anything too controversial; unless you're talking about the guys over at BookTV, who have been known to get a little wild from time to time. But even then it's mostly just beers and arguments about whether Freedom was as good as The Corrections. Things don't get that racist, I guess.
The mole even came bearing a video:
I was told that you're supposed to bring video when you do a piece like this, so I come bearing gifts. You've probably seen it already, but it's our blooper. We just have the one. Still pretty embarrassing I'd say. Not that there's anything wrong with Mitt Romney having a big penis, but it is kind of a funny to thing to have asked on the air. We laughed about it.
As for a motive, C-SPAN mole is rather nonchalant:
"So why are you doing this?" you might ask. Good question! I've asked myself that same thing many times while I was writing this. And I guess I don't really have a good answer. I was asked to by the people at BuzzFeed. They said "we can't let Gawker have all the fun." I told them I didn't know what a Gawker or a BuzzFeed was, since our offices don't yet have Internet, but they assured me that both were things people read on computers.
Well played, BuzzFeed.
(H/T BuzzFeed)
Have a tip we should know? tips@mediaite.com