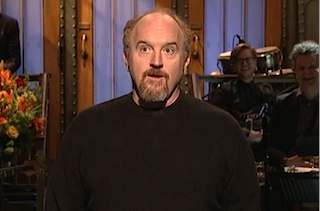 When comedian Louis C.K. hosted Saturday Night Live for the second time earlier this year, he made the bold move of using his monologue to tell an extended joke about God murdering his wife. In a new interview with Fresh Air's Terry Gross released Monday, C.K. explained why he decided to use that material in front of such a large audience and why he thinks delving into big issues like religion in comedy is so important.
C.K. said SNL gave him "total free reign" on the monologue and he wanted to make the most of being in front of one the largest audiences he will ever see. He estimated the 4 million people were watching, but even with the relatively low 4.0 rating his last episode received, that number is more like 5 million.
Given the fact that the studio audience tends to be a little more "Disney" and a little less "dark" that his typical crowd, C.K. said he knew he wanted to do a "compelling" monologue but worried they would not be on board for it. He said he "trained" for the monologue by purposely performing his set in places where he knew he wouldn't feel comfortable.
"Something that I've learned over the years is that when you talk about religion, you want to talk to religious people," C.K. said. "Even if you're talking about something that's contrary religiously, or provocative, a religious audience is a better audience for it."
While the "math" in his head tells him that "everything's just science, and randomness, and patterns," C.K. said that the main thing he feels is that "it's a great mystery" and "you have to consider every possibility." Because of this, he said he's never afraid to tackle the difficult subject of religion.
"The areas I'm going into are touchy," he said. "Maybe there's a God; maybe there isn't. Is God divorced? Did God kill his wife? You feel a little sweat on the back of your neck when you get there, but if you stay there for a second, you can find something joyful and funny in it. And it's such a great thing to go to a scary place and laugh. I mean, what's better than that?"
"So when I started going onstage," he added, "I realized if I talk about this stuff I might upset people in the room, but it's worth it because maybe there's something there."
Listen to audio below, via NPR:
And watch the full Saturday Night Live monologue below, via NBC:
You can hear C.K.'s full Fresh Air interview at npr.org.
[Photo via screengrab]
— —
>> Follow Matt Wilstein (@TheMattWilstein) on Twitter
Have a tip we should know? [email protected]