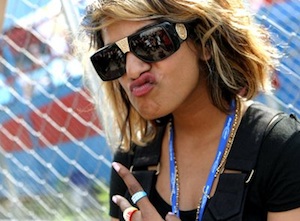 Recording artist M.I.A. got into a heated Twitter back-and-forth with CNN's Anderson Cooper late Wednesday after she accused him of calling her a terrorist. "What are you talking about?" Cooper incredulously tweeted back.
Apparently M.I.A. did not like a post on Cooper's blog that republished a Charleston Mercury article by Will Cathcart which called the Sri Lankan pop star a "Lady Tamil Tiger."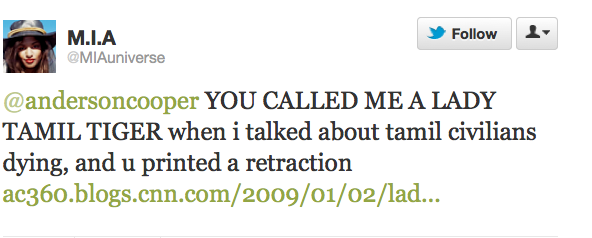 Eventually, the dispute was settled, the two buried the hatchet and the AC360 blog was updated with a rebuttal from M.I.A.:
The article "Lady Tamil Tiger gives pop culture a bang," originally published in The Charleston Mercury News, and linked to on the AC360 blog makes incorrect and misleading statements about me.

To set the record straight, I would like to clarify a few points. First, "Paper Planes" is a song about immigration. In fact, the song has been universally acknowledged by music critics to be about immigration. Any suggestion otherwise is false. Read these articles in the Seattle Times and Entertainment Weekly to learn more:

'First a top hit, now Grammy nod: M.I.A. firmly pop'

'M.I.A., 'Paper Planes,' and coasting to fame on 'Pineapple Express"

Second, I have said on numerous occasions that I do not support terrorist organizations, including the Tamil Tigers.
'M.I.A. Responds to Pro-Terrorism Accusations'

Third, my father had no influence on my political beliefs and to imply otherwise is wrong and irresponsible. In a 2005 interview with the Guardian newspaper I explain how I was raised as though my father was "dead" and that he had no influence of my development.

Fourth, my father was never a member of the Tamil Tigers. Rather, he retired from politics in the 1990's after he was unable to broker a peace agreement between the Sri Lankan government and the Tamil Tigers. He currently heads the Britain based Global Sustainability Initiative that addresses issues of globalization.
Mediaite has reached out to the Charleston Mercury and has yet to receive comment for the story.
Have a tip we should know? [email protected]