Maddow Slams Tea Party Blogger Over Ridiculous Directions On How To Stay Safe In DC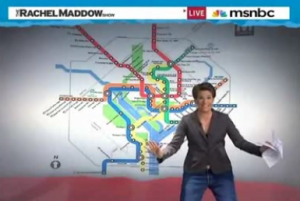 As Glenn Beck's "Restoring Honor" rally nears, preparations need to be made which is why a Tea Party blogger from Maine posted some directions on how to stay safe in our nation's capital. With all due respect to him, they're pretty much ridiculous (yeah, you sure don't want to go by those scary National Archives!). Unsurprisingly, liberal bloggers and pretty much anyone who has ever stepped foot in Washington DC are having a field day with the post. Rachel Maddow, especially, was having a good time and could barely get through a segment on it without riotous laughter from herself, her guest, or her crew.
Here's what the post said:
"Safety and Mores
Many parts of DC are safe beyond the areas I will list here, but why chance it if you don't know where you are?
If you are on the subway stay on the Red line between Union Station and Shady Grove, Maryland. If you are on the Blue or Orange line do not go past Eastern Market (Capitol Hill) toward the Potomac Avenue stop and beyond; stay in NW DC and points in Virginia. Do not use the Green line or the Yellow line. These rules are even more important at night. There is of course nothing wrong with many other areas; but you don't know where you are, so you should not explore them.
If on foot or in a cab or bus, stay in Bethesda, Arlington (preferably north Arlington), Crystal City, Falls Church, Annandale, or Alexandria, or in DC only in northwest DC west (i.e. larger street numbers) of 14th or 16th streets, or if on Capitol Hill only in SE Capitol Hill (zip 20003) between 1st and 8th Streets, not farther out than 8th (e.g. 9th, 10th etc). (Or stay on the Mall and at the various monuments.) Again there are many other lovely places, from the Catholic University of America to Silver Spring, Maryland. But you don't know where you are so you cannot go, especially at night, unless you take me with you."
For those that don't know the area, the DCist has created a handy map to show where rally-goers will be allowed to wander following these directions. It's not much.
On one hand, this is exactly the kind of thing Glenn Beck was talking about in his response to that 2006 Good Morning America earlier. However, on the other hand, you have to remember that making fun of tourists is the leading hobby of anyone who has ever lived somewhere worth touristing in.
We really can't fault the blogger though. So, he overshot. Who cares? His intentions were good. He just didn't want this to happen.
Watch the Rachel Maddow segment below:
Have a tip we should know? tips@mediaite.com