MAGA Twitter Thinks Mailed Explosives Are Part of A Hoax: 'A Left Wing False Flag?'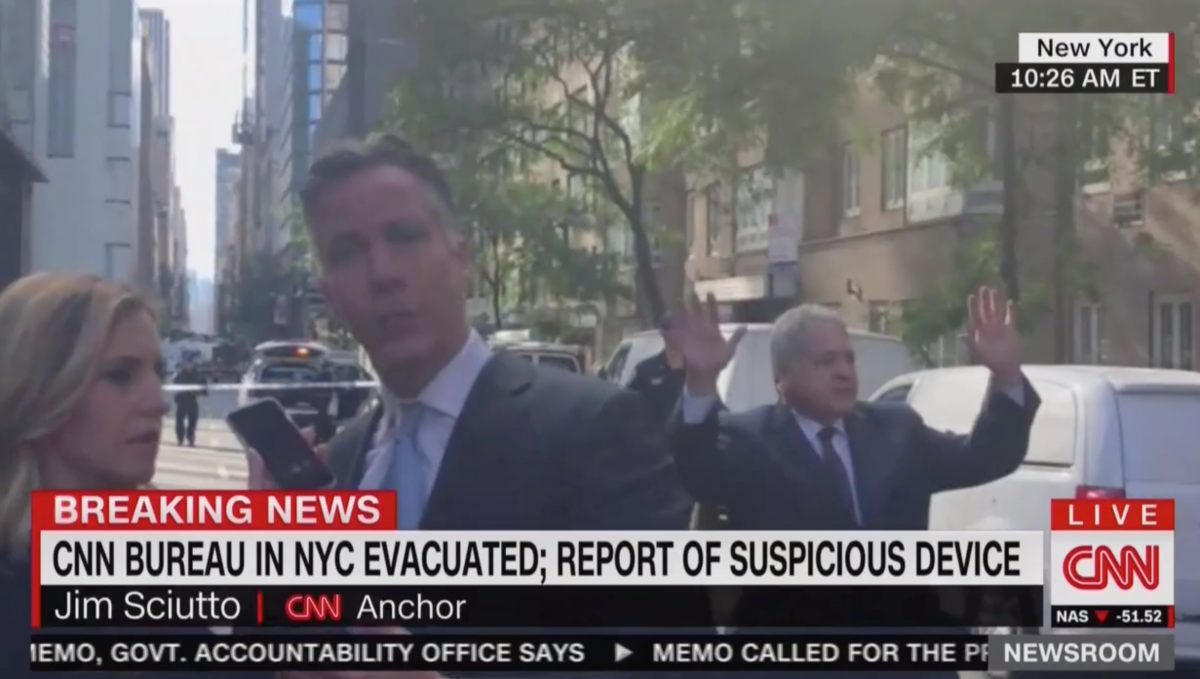 The apparently coordinated mailing of explosive devices to Democratic party leaders and CNN studios let to a flurry of stories trying to make sense of a still fluid story, and will almost certainly launch a thousand predictable long-form think pieces about the dangers of heated political rhetoric.
The best essays will come after a period of reflection as the reporting of the nuts and bolts of a still-unfolding story begins to emerge, but there appears to be at least one political province of commentators who have made a quick assessment of the multiple mailings of explosive devices: #MAGA Twitter.
The most loyal defenders of President Donald Trump's administration appear to think that this coordinated story is made of whole cloth; that it's simply a hoax or "October Surprise" designed to gin up fear in the run-up to the midterm elections less than two weeks away.
Nevermind the fact the logic of this conspiracy suggests that for it to work, nearly everyone involved would have to be somehow in on it. Federal officials, Secret Service officials and hundreds of dozens of local officials from the Florida office of Rep. Debbie Wasserman Schulz (D-FL), to the Time Warner-based mailroom employees and all parts in between.
A cursory lap of MAG Twitter reveals the following:
First, George Soros.

Now, Hillary Clinton?

These suspicious packages are false flags. #Clintons #WednesdayWisdom

— #ThePersistence (@ScottPresler) October 24, 2018
So let me get his straight.

In the course of 2 days:

> An explosive device was found near George Soros's home

> CNN In NYC is evacuated over a suspicious package

> Secret Service intercepted suspicious packages for Obama and Hillary Clinton

?

I'm not buying it. At all.

— Laura Loomer (@LauraLoomer) October 24, 2018
These "explosive packages" being sent to the #Media and high profile Democrats has Soros astro-turfing written all over it so the media can paint the #GOP as "the dangerous mob."

Pure BS.

— Bill Mitchell (@mitchellvii) October 24, 2018
Now I'm really sure it's a hoax https://t.co/5axSzeFjS2

— Kurt Schlichter (@KurtSchlichter) October 24, 2018
None of the leftists ostensibly targeted for pipe-bombs were actually at serious risk, since security details would be screening their mail. So let's determine not only who is responsible for these bombs, but whether they were trying to deflect attention from the Left's mobs.

— Frank Gaffney (@frankgaffney) October 24, 2018
I think it is wise to ask, a bomb sent to the Clintons, the Obamas, George Soros and CNN Time Warner, at the same time that the GOP says there are angry mobs on the left,is this a left wing false flag?

— Carmine Sabia (@CarmineSabia) October 24, 2018
The son of former NSA Director Michael Flynn (who has pled guilty for lying to the FBI) got in on the act:
Awfully suspicious timing between this and Soros….#JustSayin https://t.co/58ntEGITLC

— Michael Flynn Jr⭐️⭐️⭐️ (@mflynnJR) October 24, 2018
Upon further reflection, however, Flynn Jr. revealed that he, in fact, didn't know if this was a "false flag":
Folks, deleted a few tweets (not all) related to this ongoing craziness.

I don't know if it's a false flag.

However, I hate the timing as it provides a PERFECT narrative for @TheDemocrats going into the mid terms.

— Michael Flynn Jr⭐️⭐️⭐️ (@mflynnJR) October 24, 2018
Not all conservative voices were all in on the hoax theory, however. Frequent Fox News' guest Ben Shapiro provided some sanity on this particular take:
If your first reaction to some evil person sending bombs to a variety of politicians on one side of the aisle is "FALSE FLAG," you are officially deranged.

— Ben Shapiro (@benshapiro) October 24, 2018
Have a tip we should know? tips@mediaite.com