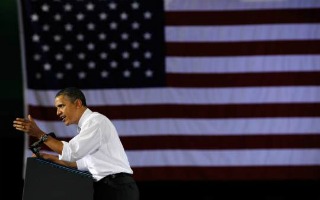 A contributor to president Obama's 2012 re-election campaign has been accused of defrauding a businessman and impersonating a bank official, fueling criticisms of Obama's major donors and potentially forcing the president's re-election campaign to return even more contributions.
Abake Assongba, listed on Obama's campaign website as a volunteer fundraiser, contributed $50,000 to the Obama re-election campaign along with her husband. Today she is fending off civil charges that she stole $650,000 in order to build a multimillion-dollar home in Florida.
This is the second instance in which a campaign contributor's donation has been made suspect by the actions of the donors. In March, the Obama campaign returned a $200,000 donation made by Chicago-area Carlos and Alberto Cardona – two brothers of Mexican fugitive, Juan Jose Rojas Cardona, wanted on drug charges and allegedly orchestrating the assassination of a Mexican businessman.
In one civil case against Assongba, a Swiss businessman accused her of engaging in a 2009 email scam and using the ill-gotten funds to construct her home – although some of that money was returned. Assongba is also being pursued by a collection agency after a court order demanded that she pay more than $10,000 in unpaid rent towards her former Brooklyn residence.
Her lawyer told the Washington Post that the allegations against her are incorrect.
"More than 1.3 million Americans have donated to the campaign, and we constantly review those contributions for any issues, Obama campaign spokesman Ben LaBolt said in a statement reported by the Post. "Some issues are easy to identify, others more difficult, but once an issue has been raised, we address it promptly, as we will do in this case."
h/t Huffington Post
Have a tip we should know? tips@mediaite.com