Man Claims He Concocted Story of Harry Reid Getting Beaten Up to Test Media Gullibility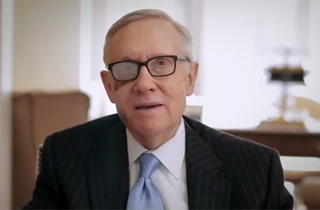 A Las Vegas man told the Las Vegas Sun he concocted a story about Harry Reid getting beaten up by his brother to test right-wing media gullibility, which he claimed worked like a charm.
Larry Pfeifer said he made up a story about Reid's eye injury, which the senator incurred during an admittedly-bizarre exercise accident, after reading an unsubstantiated rumor in a conservative blog of Reid being beaten up by the mafia. Using a pseudonym, Pfeifer contacted the blogger John Hinderaker and spun a tale of a drunken fight between the Reid brothers, seemingly corroborated by Larry Reid's DUI arrest around that time.
Hinderaker published the story, though he did not vouch for its veracity. However, that was enough to get the rumor mill going. Per the Las Vegas Sun:
The rumor spread quickly after Hinderaker published it April 3, landing Pfeifer on conservative talk show host Laura Ingraham's radio program six days later when Hinderaker was a guest host, and leading to a conversation between Pfeifer and Rush Limbaugh. Pfeifer said he tried to get on Limbaugh's show, where he planned to admit he'd made up the story.
Limbaugh, who has been suspicious of Reid's story, declined Pfeifer as a guest but did air the rumor.
Pfeifer said Hinderaker and Limbaugh never inquired after his true identity, or did anything else to verify the story. "They had no problem using a story that had nothing but some guy's word," he said. "Not one of them knew my real name. I didn't even give them my phone number."
His plan was to draw awareness to the ease with which conservative media will repeat untruths if it fits their narrative. "Can I set off a domino effect where people say, 'We're sick of this,' and start turning away from this kind of media or maybe boycott their sponsors?" he told the Sun.
Of course it's possible that Pfeifer isn't telling the truth about this, either. (The Sun said it did its due diligence on him.) But to paraphrase Marge Simpson, "The courts might not work anymore, but as long as everyone is lying to everyone else, justice will be done!"
[h/t Las Vegas Sun]
[Image via screengrab]
——
>> Follow Evan McMurry (@evanmcmurry) on Twitter
Have a tip we should know? tips@mediaite.com