Man Keeps Shopping After His Gun Goes Off in Walmart, Multiple Cans of Beans Wounded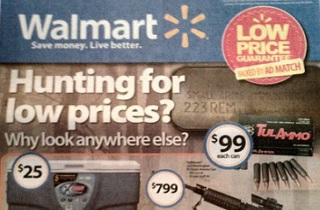 With all of the tragedies that this country has seen this past year, it is something of a relief to hear a story about a shooting in which no one was killed. That is not to say, however, that the story of Christopher Strube, whose .45-caliber pistol went off in his pants pocket while he was shopping at an Iowa Walmart Sunday, should be a comfort to anyone. No one was injured in the incident, but Strube's story demonstrates how the right to bear arms intersects with the rights of others to be safe from harm in public. You're only as safe as the most unsafe gun being carried around you. From The Daily Iowegian:
According to a press release from the Centerville Police Department late Monday morning, Strube said he was carrying a .45-caliber gun in his pants pocket. He stated that a bottle that he was carrying hit the handgun and caused it to fire one round.

The press release continues to say that Strube advised that after the gun went off he paid for his items and left the store.

Police say they found a bullet hole in a basket and several cans of beans after several employees and customers stated they heard a gunshot and smelled gun powder in the area inside of the store shortly after 2 p.m. on Sunday. Officers also located a .45-caliber bullet in one of the cans of beans.

Strube does have a valid concealed weapon permit, police say.
Maybe he thought he was in a Target.
Aside from the fact that no one was hurt, and the amusing detail that Mr. Strube just kept right on shopping, the silver lining here is that those cans of beans can now be donated to the Walmart employee food drive.
It's also a great example of why the non-gun-toting public, who mostly understand the use of firearms for home protection, might feel less-than-comfortable mixing in public with armed-to-the-teeth strangers, even if they're just posing for a picture while pointing their guns at each other. We long for the day when the most dangerous thing to discharge in your pants is a bag of Olestra potato chips.
Have a tip we should know? [email protected]