Father of Climate Change Awareness Calls Global Deal 'Bullshit'
Father of Climate Change Awareness Calls Global Deal 'Bullshit'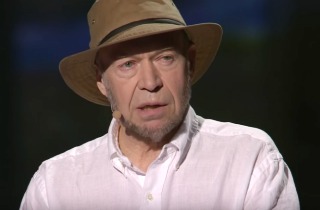 The man considered to be the father of climate change awareness has some thoughts on the global deal struck by almost 200 nations yesterday, and they're not exactly positive.
James Hansen is a former NASA scientist who testified to Congress back in 1988 about global warming being caused by a greenhouse effect. He is considered one of the leading experts on the matter and has become a strong activist attempting to push for the world to address the issue head-on. One of the stipulations in the deal is setting a target that the global temperature increase does not exceed 2 degrees Celsius.
Well, yesterday, many, many nations came together to tackle the matter, but Hansen isn't impressed.
He told The Guardian, "It's a fraud really, a fake. It's just bullshit for them to say: 'We'll have a 2C warming target and then try to do a little better every five years.' It's just worthless words. There is no action, just promises. As long as fossil fuels appear to be the cheapest fuels out there, they will be continued to be burned."
Here's what he wants to see included:
But, according to Hansen, the international jamboree is pointless unless greenhouse gas emissions aren't taxed across the board. He argues that only this will force down emissions quickly enough to avoid the worst ravages of climate change.

Hansen, 74, has just returned from Paris where he again called for a price to be placed on each tonne of carbon from major emitters (he's suggested a "fee" – because "taxes scare people off" – of $15 a tonne that would rise $10 a year and bring in $600bn in the US alone). There aren't many takers, even among "big green" as Hansen labels environment groups.
[image via screengrab]
— —
Follow Josh Feldman on Twitter: @feldmaniac
Have a tip we should know? tips@mediaite.com
Josh Feldman - Senior Editor