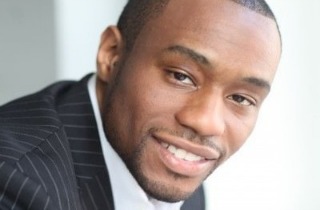 CNN contributor Marc Lamont Hill had an encounter of the racist kind while at a sports bar in Detroit, according to a series of tweets he sent out Friday.
As Hill tells it, he was at Sporting News Grill in Detroit Thursday night when an "old white guy" approached him and his company to ask, "What are you blacks doing here?"
Hill said the man stuck his hand out for a handshake. "So, me and the people I'm with are looking like we're getting punked," Hill tweeted. He said the man then asked for a handshake, which Hill declined. "Nah."
Then, the CNN contributor said a group of white people nearby told the potentially drunk patron to leave the restaurant. "Get out of here, Henry," Hill recalled them saying, "You're embarrassing all of us."
"Apparently, Henry had been using the n-word all night," Hill tweeted. "We just didn't hear him. They told the server what happened and they made him leave."
In Hill's final tweet on the matter, he said he wasn't angry, calling the situation "bizarre."
"But I appreciate the white customers for saying something," he concluded. "It matters."
Mediaite reached out to Sporting News Grill for comment. The manager we spoke with, who deserves a raise for how polite and concerned she was on the phone, said she was not working at the time of the alleged incident but that she would look into it and get back to us.
We've also reached out to Hill for more details, like whether the possibly racist man smelled like booze and whether Hill alerted management.
Tweets below:
Sitting at Sporting News restaurant in Detroit. Old white guy walks up and says "What are you Blacks doing here?" Then sticks his hand out.

— Marc Lamont Hill (@marclamonthill) September 19, 2014
So me and the people I'm with are looking like we're getting punked. He says "you're not gonna shake my hand?" I'm like "nah".

— Marc Lamont Hill (@marclamonthill) September 19, 2014
Before he can say anything else, the white people next to us say "Get out of here Henry. You're embarrassing all of us."

— Marc Lamont Hill (@marclamonthill) September 19, 2014
Apparently, Henry had been using the n-word all night. We just didn't hear him. They told the server what happened and they made him leave.

— Marc Lamont Hill (@marclamonthill) September 19, 2014
It was so absurd that I wasn't angry. It was just bizarre. But I appreciate the white customers for saying something. It matters.

— Marc Lamont Hill (@marclamonthill) September 19, 2014
[Photo via marclamonthill.com]
— —
>> Follow Eddie Scarry (@eScarry) on Twitter
Have a tip we should know? [email protected]