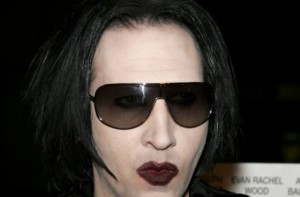 Marilyn Manson personally couldn't be happier to see the current turmoil going on at Fox News.
In the wake of the Columbine massacre, when there were reports floating around that the shooters were fans of Manson's, he got criticized all over the media, especially on Fox News. And then there was his on-air showdown with Bill O'Reilly over whether he's a bad influence on young people.
So when The Daily Beast asked Manson if he's getting "a perverse sense of satisfaction" from the internal turmoil at Fox over Roger Ailes' ousting and more harassment allegations, Manson said yes:
Yes, indeed I am. Fox News was just starting up and Columbine was really their platform that launched them. They used me and I enjoyed going up against Bill O'Reilly. I remember being in their building and walking right past Shepard Smith, and he was the one who'd reported on Columbine inaccurately. He was the one saying [the shooters] were wearing Marilyn Manson makeup and shirts—which none of that was true—and I walked right past him and gave him the fuckin' dead eye. And Bill O'Reilly was so ill-prepared, I loved handing him his ass. So yeah, it's been fun watching them go down.
He compared Fox to the movie Anchorman before saying that "all news is debatable."
"I honestly can't say for sure that," Manson said, "other than the photographs, because I've never been up into the sky and looked at the Earth, so I could never say that I know with full certainty that the Earth that we see in photographs is what it looks like."
As for the 2016 election, he revealed he won't be voting this time because the choices are "cat shit and dog shit."
[image via Tinseltown/Shutterstock]
— —
Follow Josh Feldman on Twitter: @feldmaniac
Have a tip we should know? tips@mediaite.com
Josh Feldman - Senior Editor