Mark Levin Savages Karl Rove's 'Diabolical' Anti-Tea Party PAC: 'We're Being Stabbed In The Back'
Mark Levin Savages Karl Rove's 'Diabolical' Anti-Tea Party PAC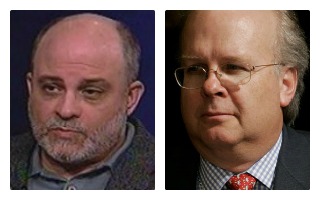 Conservative radio host Mark Levin went after former George W. Bush advisor, Karl Rove, during his radio show on Monday after Rove announced the formation of a new PAC that would aid moderate Republican politicians against tea party challengers in primary races. Levin called Rove's effort 'diabolical' and listed the many GOP officeholders who would not be in power but for the tea party insurgency.

RELATED: S.E. Cupp Trashes Karl Rove's 'Refusal To Recognize Reality,' Audacity To Presume He Deserves 'Another Shot
"We're being stabbed in the back," Levin declared.
"Here's a project funded by crony capitalists, funded by corporatists — who are not conservative — funding a group called the Conservative Victory Project," Levin began. "This is the sort of thing Barack Obama does; this is a thing Marxists do; they give a name to themselves which has nothing to do with what they're really up to in order to try and control the propaganda."
"I'm just showing you how diabolical this effort is," Levin continued.
He read a portion of the mission statement of the new PAC, taking issue most with the organization's stated agenda of "imposing discipline" on the Republican Party. Levin listed a number of sitting Republican officeholders who emerged from the primary process backed by tea party support. Levin suggested that it was the tea party which imposed discipline on the GOP.
"The diversity that comes to the Republican Party is through the conservative and tea party movement, not through the Republican establishment," Levin said. "They backed [Charlie] Crist in Florida. They backed the moderate lieutenant governor in Texas. They put up a moderate attorney general in Kentucky to try and beat Rand Paul. They backed the moderate-to-liberal Republican longtime serving Senator Bob Bennett serving in Utah."
Listen to the clip below via The Mark Levin Show:
> >Follow Noah Rothman (@NoahCRothman) on Twitter
Have a tip we should know? tips@mediaite.com