Mark Levin to Trump: 'Cut the Crap' with 'New York City Bully Tactics' Against Cruz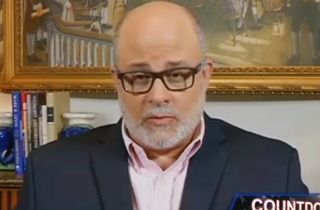 Mark Levin has been very fair to Donald Trump over the course of the 2016 campaign, but he's already on record not liking Trump's attacks on Ted Cruz, and how that Trump has upped those attacks, Levin sent him a friendly warning today.
Trump has been going after Cruz all week for his "New York values" swipe, and today he's been on a tweetstorm about Cruz being a hypocrite in the pocket of big banks who sucks up to people he would otherwise condemn when it suits him.
Well, on Facebook today, Levin sent Trump some friendly advice:
Either cut the crap – your accusations this morning that Cruz is Canadian, a criminal, owned by big banks, etc. (see link below) – or you will lose lots and lots of conservatives. Save the liberal New York City bully tactics for the New York City liberals. Put down your computer keyboard for a few hours, think before you tweet, and collect yourself. You're not politically invincible, regardless of the polls and media. I am already hearing more and more people getting fed up with the low road you're taking against Cruz, which has obviously intensified this morning. You don't need to attack his honor or attempt to smear his reputation. You can leave that to Mitch McConnell and the New York Times. Engage on real and substantive issues that matter to the country. Like I said, my friendly advice.
It's worth noting here that back in 2011, Levin pretty outwardly mocked and tore into Trump, saying at one point, "All your supporters are gonna give you a pass on every damn thing you've ever said or done! But not me. Because you sound stupid."
[image via screengrab]
— —
Follow Josh Feldman on Twitter: @feldmaniac
Have a tip we should know? tips@mediaite.com
Josh Feldman - Senior Editor