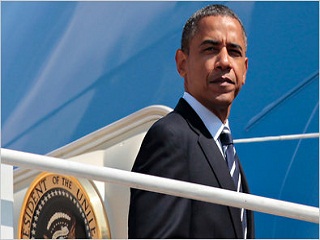 Three students attending Maryland's Eastern Technology High School have been suspended after drawing and posting a racially offensive picture of President Barack Obama to Twitter.
The image reportedly features three nooses hanging from a set of rafters in a building, juxtaposed against three stick figures in pointed hats. A grave marker with the name "Barack Obama" sits to the right of what the students clearly intended to be Ku Klux Klan members, hinting at the President's execution.
According to the Baltimore County police, the image was drawn by two of the three students on June 7th prior to the school year's end. Their teacher had been discussing final exam grades when another student alerted her to the drawing. But by the time she made her way over, the two students had erased the image and left almost no trace of its contents.
However, the third student involved had already displayed it to the public by taking a picture of the drawing and uploading it to Twitter. Other students eventually got hold of the image before a parent interfered by emailing it to an assistant principal.
Following the incident, Eastern Tech's Principal Tom Evans has since declared that the incident does not represent the views held by the magnet school's student body.
"This issue is the first time in five years here that any group has been targeted because of their race," said Evans. "We have no tolerance for this sort of thing."
Charges were not filed against the three students because the incident was not deemed a hate crime. The image is the second drawing in the past month that has instigated controversy, with the first being a student-made sign at Fresno's Hamilton Elementary School depicting Jesus with a caption that read "I want you to kill all the infidels."
Have a tip we should know? tips@mediaite.com