Mass. Attack: GOP Rivals Slam Romney Record As Governor In New Obama Campaign Ad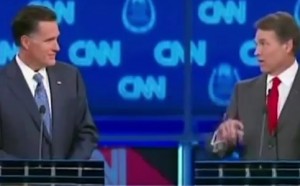 Using a rival's primary opponents against him in a general election ad is predictable, but that doesn't mean it's not fun. President Obama, spared a primary but still under attack by Democrats, released a new ad today that attacks Mitt Romney's economic record as Governor of Massachusetts, using news and debate clips of GOP luminaries like Newt Gingrich, the Ricks Perry and Santorum, former Utah Gov. Jon Huntsman, and Sen. John McCain slamming Romney's performance.
The ad focuses on Romney's #47 ranking in job creation as governor of Massachusetts, the state's loss of manufacturing jobs at double the national average, and Romney's raising of taxes in the form of $730 million in "fee" increases. Particularly effective were Sen. John McCain's barbs, delivered with a humor the others lacked. It was also a bit of a nostalgic kick to remember that Jon Huntsman exists.
While the clips hit hard, stylistically, the ad is a Wiffle bat, with oddly warm graphics and an American Beauty-esque score that just makers you want to punch the d-bag who's shooting a plastic bag with his video camera:
With 346 hours of debate footage and countless GOP primary attack ads to cull from, the Obama campaign has an embarrassment of riches on its hands, but if you're going to do an attack ad, it should look like an attack ad, not a trailer for a new Aaron Sorkin series.
What the Obama campaign does have going for it is that the most effective 2008 attack ad against him by a primary opponent was Hillary Clinton's "It's 3 am" commercial. Not only won't you see Mitt Romney use that, I wouldn't be surprised to see the Obama campaign roll that back out. If the President could keep Democrats who aren't running against him from undermining him, including former President Bill Clinton, he'd really be in good shape.
Have a tip we should know? tips@mediaite.com