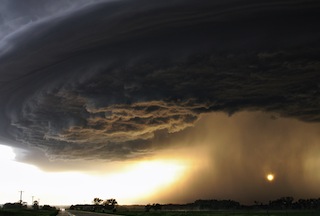 8:45 p.m.: A half-mile wide tornado system made straight for downtown Oklahoma City Friday evening, just one week after an unprecedented storm devastated nearby Moore, OK.
The storm built up Friday afternoon, but at just before 8:00 multiple tornados formed to the southwest of Oklahoma City, with winds whipping up to 150 miles an hour. Whereas the Moore tornado was a violent but focused storm that cut a single path, the system attacking Oklahoma City contained different funnel clouds that could touch down at any point.
Compounding the panic in Oklahoma, the storm approached at rush hour, stranding drivers on highway I-35. The system also formed at dusk, making the individual twisters difficult to spot, and was so wide that many drivers did not know they were driving into the storm.
One tornado was moving from Dell City to Tinker Air Force Base, while another was forming above I-35 and Crossroads Mall. Due to the nature of the storm, it is impossible to tell if and when the individual tornados will touch down.
31,000 are currently without power, though "that number's going to change so fast," Fox News' Shepard Smith reported, "that that number almost isn't worth reporting." MSNBC had also reported that up to 1,000 people had been evacuated to a tunnel beneath Will Rogers Airport.
Updates below:
Saturday, 5:34 pm: The death toll has climbed to nine, with at least nineteen injured. Authorities estimate seventeen tornados touched down over the Oklahoma City, St. Louis and surrounding areas last night.
12:10 pam: CNN updates us on the latest news about the storm and their aftermath:
12:09 pam: RT @cnnbrk Missouri Gov. Jay Nixon has declared a state of emergency because of the severe weather.
10:31 pm: Source of the confusion on mass casualties: RT @mbushksdk The fire dept set up a command post at the Holiday Inn for a "mass casualty" contigency..NOT for mass casualties.
10:24 pm: Reports of a "mass casualty event" seem to be nothing.
10:23 pm: via Oklahoma News 9: "Authorities confirm five fatalities; a mother and her baby, at I-40 and Cimarron Rd. in Canadian County. Two other victims were found in a car near SW 15th St. and Choctaw Rd. in Union City. And one other person near NW 10th St. and Radio Rd. in El Reno."
10:19 pm: RT @NewsBreakers: @BreakingWeather's tweet of fans trapped at Busch stadium in MO appears unfounded per @KMOV via local fire officials.
10:17 pm: via NewsOk, Oklahoma City Police Lt. Jay Barnett:
"We are overwhelmed right now with calls of people trapped in vehicles in high water, to the point that we are having grave difficulty even responding to all of them. The flooding is the major problem in the Oklahoam City metro. A lot of that has to do with people who, for whatever reason, instead of sheltering decided to outrun the storm and got caught in it."
10:08 pm: Conflicting reports of a "mass casualty event" in St. Louis. KSDK NewsChannel 5 saying it has heard no reports.
10:06 pm: Weather Underground reporting no current tornado warnings for Oklahoma City area, but cautions, "still dangerous weather out there."
9:57 pm: RT @breakingweather: Fans are trapped under debris at Busch Stadium in St. Louis, MO according to local news sources.
9:56 pm: Oklahoma G&E reporting up to 54,000 people without power.
9:34 pm: Oklahoma City Mayor Mick Cornett told Rachel Maddow that Oklahoma City has been "largely spared," as so far there is no evidence a tornado actually touched down within the city, though he warned that "the night's not over." Cornett reported about power outages and flash flooding, but added, "The skies are still light to the west. That's a good sign. It was much darker an hour ago."
Cornett noted the number of cars on the road, and wondered if people had been scared by the tornado last week in Moore. "People were so frightened they just wanted to get out of the way," he said, adding that being in a car on the road was the worst possible place to be during a tornado.
9:48: RT @4WarnStormTeam: OHP is asking all driver NOT to get on I-40 or I-35. Emergency crews can't get through gridlock.
9:47: KFOR anchor Lance West is reporting a mother and daughter are dead after being thrown from their car by the storm. These are the first reported casualties.
9:26 pm: St. Louis Cardinals cancel game against San Francisco Giants on public safety recommendations.
9:15 pm: National Weather Service in Norman, OK, emphasizing severe flash flood warning for OKC metro area: "Most people who die in flood drown in their cars!"
9:13 pm: Weather Underground is now reporting a tornado warning for "St. Charles, St. Louis and St. Louis City Counties in MO until 8:45 CDT."
Watch live stream, via KFOR:
Watch live stream, via News9 – Oklahoma:
News9.com – Oklahoma City, OK – News, Weather, Video and Sports |
Piers Morgan speaks to Oklahoma State Trooper Betsy Randolph about the chaotic conditions on the ground:
Photos:
Weather Channel vehicle tossed by tornado: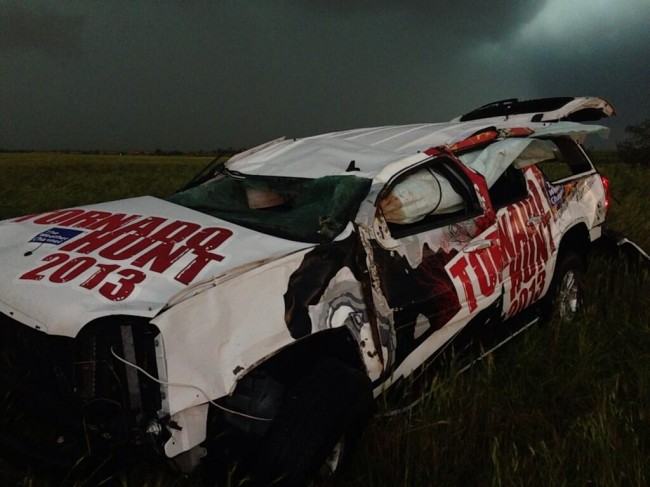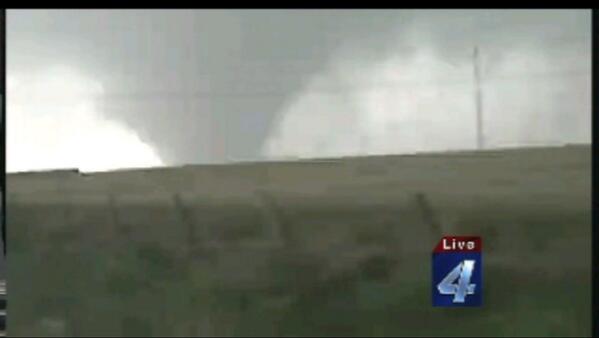 DCRobTV: Large 3/4 mile wide tornado on the ground near El Reno moving East. Yukon in the path pic via @KFOR http://t.co/aktQjF53M7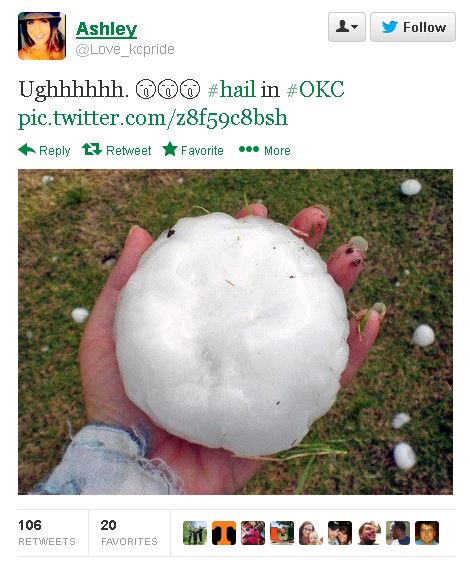 From Lance West, OKC reporter. Tweet; "I-40 east of El Reno looks like a demolition derby. Overturned semis everywhere."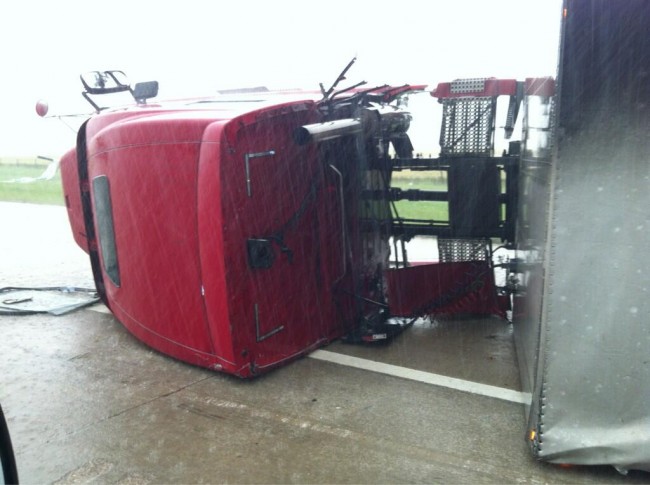 From NBC News Correspondent Janet Shamlian: Underground At Airport: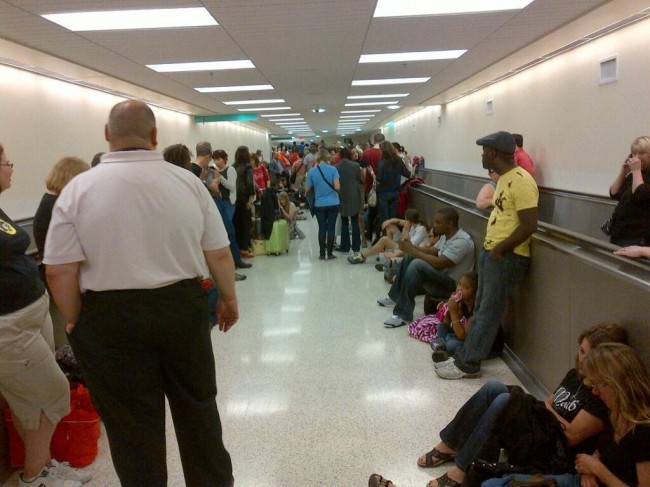 Have a tip we should know? tips@mediaite.com