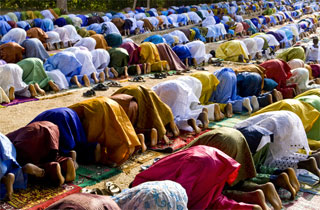 Mayor Bill de Blasio announced today that New York City public schools will now recognize Eid al-Adha and Eid al-Fitr, the two most important Muslim holidays, and that all students will get those days off school.
de Blasio made the announcement in a tweet this morning, calling it a decision "that respects the diversity of our city". According to the New York Times, this fulfills a campaign promise de Blasio made in 2012. The decision was widely celebrated by the city's Muslim community,
Considering that over 10% of all New York City public school students are Muslim, a day off makes sense to the numerous politicians and activists who supported the decision — a decision they've been asking the City to make since the Bloomberg administration. While the City Council voted to add the holidays to the school calendar in 2008, Michael Bloomberg vetoed the measure, saying: "When you have a city as diverse as we do, with virtually every religion known to man practiced, if we closed school for every single day there wouldn't be any school."
Eid al-Adha is one of the most holy days in the Muslim calendar, celebrating the prophet Abraham's devotion to God and his willingness to sacrifice his son, Ishmael, before God intervened. Eid al-Fitr comes at the end of the fasting month of Ramadan, and, at the risk of sounding like a secret Muslim, it's a pretty fun holiday. (Since the latter falls in the summer, the city will celebrate it as a summer school holiday.)
Christian and Jewish holidays have long been recognized by NYC public schools, but the city's recently pushed to add more holidays: the Asian Lunar New Year was recently declared a school holiday, and there's intense debate surrounding the Hindu holiday of Diwali, which is also a super fun holiday.
Now please clean the ice off the streets, de Blasio.
[h/t Gothamist]
[Image via Shutterstock]
—
>> Follow Tina Nguyen (@Tina_Nguyen) on Twitter
Have a tip we should know? tips@mediaite.com