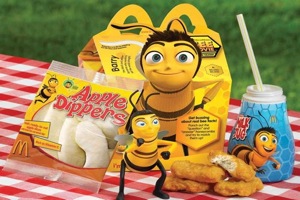 Plastic children's movie based toy fans, rejoice: Mayor Gavin Newsom of San Francisco has vetoed the city's controversial ban on putting toys in Happy Meals. "There are times when a city can go too far," Newsom told the San Francisco Chronicle as he vetoed the bill, citing among his reasons to do so both parents' rights and the widespread public ridicule San Francisco faced over the law.
Defending the rights of parents, Newsom argued that inserting the government this much in the decisions of parents went "too far" despite the good intention of combating childhood obesity, and that there were likely more effective ways of achieving that goal. Also, this law is just embarrassing:
Newsom said his opposition is not just about policy, but also about reputation. The city already has been through the wringer nationally and internationally for its ban on plastic bags and a mandatory recycling law in which residents can get in trouble for not composting – ordinances the mayor supports. But Newsom said the toy ban, which has captured the attention of Jon Stewart, "Dr. Phil" and national headlines, goes too far.

"There's a reason there's not a TV station in this country that hasn't candidly been mocking us," Newsom said.
San Francisco Happy Meal lovers are not out of the woods yet, though: the San Francisco Board of Supervisors is scheduling a vote to override the veto, and the first time around, the bill got enough support that, should the same vote count come in, they could override the veto. In the meantime, though, San Franciscan Happy Meal fans have a window to stock up on all the toys they can (which now, according to the McDonald's website, are every child's favorite giant robot brains.
Have a tip we should know? tips@mediaite.com