McConnell Accuses, Walks Back Claim Liberal Group That Tweeted About His Wife Behind 'Nixonian' Office Bugging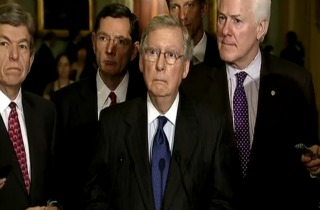 Senate Minority Leader Mitch McConnell (R-KY) accused the liberal group Progress KY of bugging his campaign offices recently and of releasing that audio to the investigative publication Mother Jones magazine, which made the audio public on Tuesday. He claimed that the group, which he said is representative of the "political left," has reverted to "Nixonian" tactics in order to remove him from office next year. McConnell's office later walked this claim back, saying that he was not directly referring to that group.

RELATED: Liberal PAC Attacks Sen. Mitch McConnell's Asian Wife: 'May Explain Why Your Job Moved To China!'
"As you know last month my wife's ethnicity was attacked by a left-wing group in Kentucky and then apparently they also bugged my headquarters," McConnell told Capitol Hill reporters on Tuesday. "So I think that pretty much sums up the way the political left is operating in Kentucky."
"As I indicated, last month they were attacking my wife's ethnicity and then apparently unbeknownst to us at the time they were bugging our headquarters in a Nixonian move," said McConnell.
When pressed by NBC Reporter Kasie Hunt, McConnell's office clarified that he was not directly referring to Progress KY, but the "political left" in general.
Progress KY had previously provoked the ire of the Senate Minority Leader when they tweeted a derogatory statement about his wife, former Labor Secretary Elaine Chao. "This woman has the ear of [Sen. McConnell]," the tweet read. "May explain why your job moved to China!"
The group later apologized and deleted the offending tweet.
The audio released by Mother Jones reveals that McConnell and his campaign team were preparing to mount an aggressive campaign against actress Ashley Judd. Some of the tactics they considered utilizing included raising questions about her mental stability.
The FBI has been asked to open a probe into how that audio was taken and how Mother Jones acquired the tape.
Watch McConnell's news conference below:
h/t POLITICO
> >Follow Noah Rothman (@NoahCRothman) on Twitter
Have a tip we should know? tips@mediaite.com