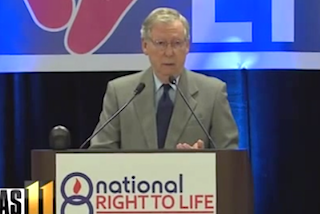 Senate Minority Leader Mitch McConnell (R-KY) told Politico's Manu Raju that if he got a title change in the 2014 midterms, President Barack Obama should expect the Senate to pass confrontational legislation that could spell a repeat of last fall's government shutdown.
Raju summarized McConnell's plan for a Senate majority as forcing Obama to "accept bills reining in the administration's policies or veto them and risk a government shutdown."
"Asked about the potential that his approach could spark another shutdown, McConnell said it would be up to the president to decide whether to veto spending bills that would keep the government open," Raju wrote. "Obama 'needs to be challenged, and the best way to do that is through the funding process,' McConnell said. 'He would have to make a decision on a given bill, whether there's more in it that he likes than dislikes.'"
RELATED: Mitch McConnell Promises More Abortion Restrictions If GOP Wins Back Senate
McConnell stressed that he was not taking up Senator Ted Cruz's (R-TX) plan of forcing a choice between defunding Obamacare or shutting down the government, arguing instead for a piecemeal dismantling of the law. Republicans bore the brunt of the blame for that shutdown last October.
However, McConnell faces a tight reelection campaign against challenger Alison Grimes, and is not a sure bet for Majority Leader if the GOP retakes the Senate, with members like Cruz staying mum on their preference. Even if McConnell was made Majority Leader he'd likely face some of the headaches his House counterpart John Boehner (R-OH) faces from his party's right flank.
Read Raju's full piece here.
[Image via screengrab]
——
>> Follow Evan McMurry (@evanmcmurry) on Twitter
Have a tip we should know? tips@mediaite.com