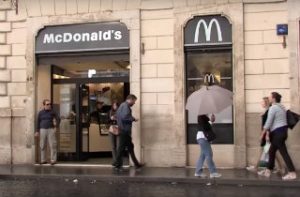 McDonald's has opened a new location on Vatican property, and not everyone within the Catholic Church is thrilled about it. Perhaps due to ongoing controversy over it actually being part of the Vatican, the opening was very low key, with no promotion. It wasn't until NPR Rome correspondent Sylvia Poggioli tweeted a photo of the new fast food restaurant that most of the world was aware that it had opened:
Though there are other McDonald's locations in the area, this one is different because not only is it on actual Vatican property, but it's on the ground floor of a building that houses a number of senior cardinals. In October, one cardinal, Elio Sgreccia (also the president emeritus of the Pontifical Academy for Life), spoke to La Repubblica (English Google translation here) and went over his grievances with the McDonald's opening in detail. Roughly translated, he said that what some have deemed the "McVatican" is "abhorrent" in that the chain "do[es] not offer guarantees for the health of consumers. Food that I would never eat."
"With a [McDonald's] that has nothing to do with [our typical Roman tradition], [it] will inevitably penalize similar activities in the area," he added. "But there will also be consequences of traffic, waste, time. It would be followed by a perversion of the neighborhood." Stressing that the food is "unhealthy, " he made sure to reiterate his point. I repeat, the mega Sandwiches in Borgo Pio is a disgrace," he said. "Rather it would be appropriate to use those spaces for activities in defense of the area's needy, hospitality spaces, reception and aid for those suffering as the Holy Father teaches ".
[Catholic News Agency YouTube screen grab]
Have a tip we should know? tips@mediaite.com