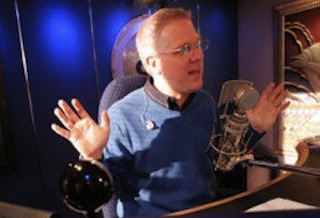 Earlier today, Media Matters reported that Glenn Beck's radio show had lost enough stations that he could no longer claim, as he does on his website, that the show is "heard on over 400 stations." However, it appears they got some of their math wrong. This is terrible, terrible news, obviously. This means that, for the next three weeks, we're going to have to listen to Beck go on and on about how Media Matters has "86 employees trying to get me and they still can't get their facts right!" I'm OD'ing on smugness just thinking about it.
From Media Matters:
"According to industry data obtained by Media Matters, Glenn Beck's radio program is now short of its heralded 'over 400' affiliate status. Asked to comment, Radio Business Reporter's Carl Marucci echoed this finding, stating, 'our best gauge right now is also shy of 400.' Premiere Radio Networks did not respond to requests for comment.

This should come as no surprise. Since the beginning of 2011, seven radio stations have dropped Glenn Beck's show."
However, while they are right about Beck losing stations this year, Business Insider got in touch with Premiere Networks, the company that syndicates the show. Premiere says that Beck has actually gained an additional 88 stations this year in addition to the seven he lost.
While the original post may seem petty, if Media Matters had proven that Beck's claim was inaccurate, forcing him to update his website (quietly though it certainly would have been), would have been a huge symbolic victory for the site (now I'm OD'ing on smugness imagining that). It looks like they won't get this win though and Beck, who's been on a roll of anti-Media Matters segments recently, will have a new wealth of material.
Have a tip we should know? tips@mediaite.com