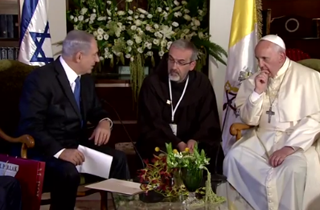 The tensions between Judaism and Christianity are thousands of years old, and, admittedly, have shaped the course of the Western World. But sometimes, the media gets a little too on edge at any signs of Judeo-Christian flareups. Case in point: a friendly debate between Pope Francis and Israeli PM Benjamin Netanyahu, over what language Jesus spoke, got blown up by the media into a POPE VS BIBI DEATH MATCH OVER JESUS AND THEREFORE ISRAEL. (Perhaps we exaggerate with the word "death match", but at least we did it for the sake of a punchline and didn't, say, fundamentally misinterpret the relationship between Israel and the Vatican.)
Yair Rosenberg at Tablet Magazine tracked how this friendly moment spiraled into a media narrative Underscoring The Bitter Relationship Between Israel And Palestine, by pointing out the hed of a Reuters article ("Pope, Netanyahu spar over Jesus' native language") which described the exchange thusly:
JERUSALEM (Reuters) – Pope Francis and Israeli Prime Minister Benjamin Netanyahu traded words on Monday over the language spoken by Jesus two millennia ago.

"Jesus was here, in this land. He spoke Hebrew," Netanyahu told Francis, at a public meeting in Jerusalem in which the Israeli leader cited a strong connection between Judaism and Christianity.

"Aramaic," the pope interjected.

"He spoke Aramaic, but he knew Hebrew," Netanyahu shot back.

Like many things in the Middle East, where the pope is on the last leg of a three-day visit, modern-day discourse about Jesus is complicated and often political.
And like many things in the Middle East, this minor contention got turned into a Serious Contention with Consequenses:
The Chicago Tribune soon dubbed the incident a "spat," and by the time it made its way to The Age in Australia, Netanyahu was said to have "publicly bickered" with the Pope, evincing the "sour undertone" of the Catholic leader's entire visit to Israel. The Forward tweeted "#Jesusgate spat over Hebrew ends testy #PopeFrancis visit with Benjamin Netanyahu."
Technically, both Netanyahu and Francis were right (Jesus spoke both Hebrew and Aramaic as part of his ministry). Is this a spat worthy of the hashtag #Jesusgate, though? Look at this super tense video of the exchange, via Rosenberg:
So perhaps there wasn't a death match over Jesus, but there was great significance in this debate:
Throughout Jewish history, there have been profoundly consequential public disputations between renowned Jewish thinkers and Catholic interlocutors, most famously in Paris (1240), Barcelona (1263), and Tortosa (1413-14). Typically, these debates were rigged, with the Jew forced to participate and preordained to lose. And if the Jew performed too well in representing Judaism, they sometimes had to flee the country afterwards for their safety…

The playful chat over Jesus between Francis and Netanyahu, then, is more than just a momentary media story. It underscores just how far Jewish-Catholic relations have come. Today, the Prime Minister of a reconstituted Jewish state can rib good-naturedly about Jesus with the Pope, and the only fallout is a few hyperbolic headlines.
[Tablet Magazine]
[Image via screenshot]
—
>> Follow Tina Nguyen (@Tina_Nguyen) on Twitter
Have a tip we should know? tips@mediaite.com