Media Twitter Blasts Billionaire Joe Ricketts For Pulling Plug on DNAinfo and Gothamist: 'Burn in Hell'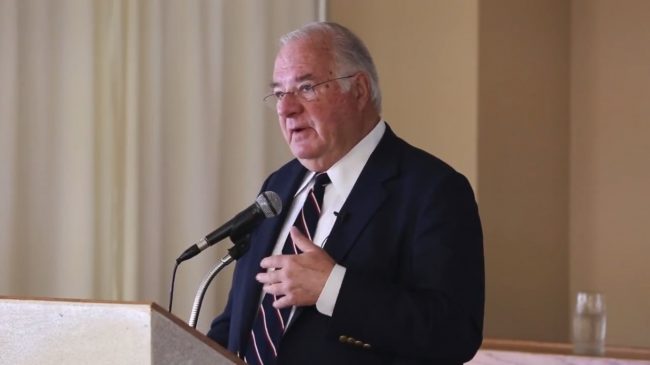 A week after the employees at the Gothamist and DNAinfo — two New York City websites the focus on local news stories — decided to unionize, billionaire owner Joe Ricketts suddenly shuttered the sites. Reportedly, Ricketts gave the journalists no advance notice he would be closing them down, as they stated they felt "blindsided."
As one would imagine, the notion of a very wealthy man shutting down news outlets and killing dozens of jobs for seemingly vindictive reasons didn't sit well with other journalists and reporters. And they teed off on Ricketts this evening:
He doesn't care about you. *He* *doesn't* *care* *about* *you* https://t.co/cy8BVxXkso

— Matt Pearce ? (@mattdpearce) November 2, 2017
joe ricketts is worth more than 2 billion but heaven forbid his employees have a smidgen of economic security

— Jamelle Bouie (@jbouie) November 2, 2017
tax the fuck out of billionaires like Joe Ricketts and provide public funding for local journalism.

— Alexander Kaufman (@AlexCKaufman) November 2, 2017
remember Joe Ricketts name, someone who stomps on workers unionizing & destroys their archived work is someone who will reappear in scandal https://t.co/EUaFcgsbEX

— maura quint (@behindyourback) November 2, 2017
Joe Ricketts is scum. The union will stand with DNA/ Gothamist people and everyone with a conscience should stand up for them right now

— Hamilton Nolan (@hamiltonnolan) November 2, 2017
dnainfo/gothamist reporters now doubly fucked because their websites — with all their clips — are gone. imagine applying for a new job now

— noah kulwin (@nkulw) November 2, 2017
Joe Ricketts is 76. He just deleted the work of hundreds of good young journalists, and pissed off all their friends. Good luck maintaining a legacy, Joe!

— Charlotte Alter (@CharlotteAlter) November 2, 2017
burn in hell, Joe Ricketts, you disgusting union-busting piece of shit https://t.co/kLJNWLOqhb

— Anna Merlan (@annamerlan) November 2, 2017
joe ricketts: go fuck yourself and also fuck the chicago cubs

— Leah Finnegan (@leahfinnegan) November 2, 2017
Another thing that didn't sit well with those in the media was the fact that Ricketts completely took the sites down, making it impossible for the now out-of-work journalists to access their past work to use on their resumes.
Journalists at @Gothamist @DNAinfo @DCist @Chicagoist @LAist: follow these steps to preserve your own archives:

— Emily Crockett (@emilycrockett) November 2, 2017
shutting down gothamist and DNAinfo entirely — without even leaving up an archive — is jaw-droppingly vindictive

— Max Read (@max_read) November 2, 2017
If only Joe Ricketts could have scraped together the money to keep Gothamist and DNAinfo up long enough for writers to save their clips. pic.twitter.com/XUx3h6dJn4

— Madison M. K. (@4evrmalone) November 2, 2017
Taking down gothamist and DNAinfo's archives cripples the reporters who worked there. They won't have online clips in their job hunts.

— Lizzie O'Leary (@lizzieohreally) November 2, 2017
Taking down the DNAInfo and Gothamist archives is really fucked up, for the city and for the reporters there who need their clips.

— Harry Siegel (@harrysiegel) November 2, 2017
The least Ricketts could do is keep the DNA Info archives up so the reporters whose lives he just upended can get new jobs

— Gregory Pratt (@royalpratt) November 2, 2017
Others also noted that not keeping the archives up would take away some great reporting:
DNAinfo broke quite a few stories about police brutality. Not only shutting them down, but wiping their archive, is a political act.

— Vann R. Newkirk II (@fivefifths) November 2, 2017
Gothamist was one of the first sites to cover #AuditTheVote and write about the Russian hacking of the election after Trump won. Now we can't access that article because Joe Ricketts, a Trump backer, shut down the site after the workers voted to unionize. https://t.co/y5afgmxpMD

— Andrea Chalupa (@AndreaChalupa) November 2, 2017
One reporter made the claim that the this was part of an intentional trend:
Gothamist, Gawker, Village Voice, DNA Info, all gone within a year…. they're trying to end independent media, and it's working.

— Max RN (@MaxRivlinNadler) November 2, 2017
And another journalist helpfully shared a list of Gothamist/DNAinfo staffers that other outlets should hire:
I made a Google doc of all the journalists you should hire because Joe Ricketts laid them off: https://t.co/kTBVi6d9C6

— Peter Sterne (@petersterne) November 2, 2017
[image via screengrab]
—
Follow Justin Baragona on Twitter: @justinbaragona
Have a tip we should know? tips@mediaite.com