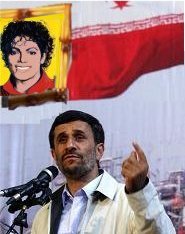 With the sound off Michael Jackson's memorial service certainly looked like a presidential funeral. According to Nielsen it was actually bigger. The New York Times' Brian Stelter has the numbers, and they confirm what we all already knew: Michael Jackson's funeral was watched by a lot of people, though not as many people as a regular episode of American Idol, apparently:
The 18 channels that simulcast the service had a combined average of 31 million at-home viewers during the nearly three-hour event. The service drew a bigger TV crowd than the funerals for two former presidents, Ronald Reagan in 2004 and Gerald Ford in early 2007. Princess Diana's funeral drew about 33 million viewers in 1997. (In comparison, the combined audience total was only slightly higher than an average episode of Fox's American Idol singing competition.)
Of course, it should probably be pointed out somewhere along the line that this is the first major funeral to be Twittered and/or Facebooked and hence MJ has a bit of an unfair advantage in the funeral extravaganza ratings game. That said, other than losing its dignity, TV has had a big win these past two weeks thanks to MJ's untimely death. Know who else has benefited? Iranian President Mahmoud Ahmadinejad.
Remember the Iran election? Remember how it dominated the news? Remember how the fact that it was dominating Twitter dominated the news? That was three weeks ago. Since then #iranelection has been wiped off the face of social media by #michaeljackson. Obviously what is happening in Iran, or not happening right now as the case may be, is far more complicated than a Twitter trend. That said, as Peggy Noonan pointed out in her column a few weeks back, the Iranian's weren't marching with slogans printed in English for the benefit of the people in Iran. And mostly thanks to MJ we've all stopped reading. From yesterday's Times:
In Tehran, one resident said, protesters challenging the re-election of President Mahmoud Ahmadinejad seem to be running out of options, especially the ability to mobilize in large numbers on the streets as they did immediately after the election…Indeed, travelers from across Iran, from major cities to small towns, confirmed a heavy presence of security forces and an end to most public political demonstrations.
During the MJ memorial telecast on NBC's Brian Williams said, somewhat apologetically it felt, that MJ was news because the public had made it so. With respect to the Iran election the reverse of that same philosophy is apparently in place.
Have a tip we should know? tips@mediaite.com