Mediaite Morning Reading List: Cornyn Gets Primaried, Christie Admin Under Investigation, & More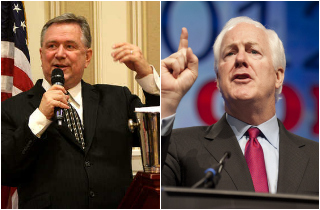 Every a.m., Mediaite publishes a primer of what the interweb machine is writing, talking, tweeting, and blogging about, so that you may fool friends and family into thinking you are a trove of information and insight. Today: a Texas senator gets the GOP primary challenger of his fever dreams, Democratic efforts to restore SNAP funding, Chris Christie's first post-election problem, and more.

"A Primary as Big as Texas" (Alex Roarty, National Journal) / "Steve Stockman Is the Nuttiest Freshman in Congress—Again" (Tim Murphy, Mother Jones)
We have ourselves a Texas GOP primary! Representative Steve Stockman (R-TX), perhaps best known for bringing Ted Nugent to the 2013 State of the Union and running his mouth on the Twitter machine, filed at the last minute to challenge conservative Senator John Cornyn (R-TX) in the 2014 GOP primary. Stockman said he was unhappy that Cornyn didn't join Texas' junior Senator Ted Cruz (R-TX) in his shutdown tactics against the Affordable Care Act.
Stockman has an uphill battle: he has only $30,000 on hand, versus Cornyn's $6 million, and only about eight weeks to raise a boatload of cash. Cruz has said he'll stay out of the primary, but already establishment vs. tea party lines are being drawn, as mainstream GOP members are shaking their heads at yet another bout of infighting between two conservative members of the party.
Now, who's Steve Stockman, you ask? Mother Jones' Tim Murphy has a good rundown:
The Texas congressman, who is three weeks into his second term after a 16-year hiatus from the House, is almost certainly the only member of Congress to have been caught with 30 mg of valium hidden in a cellophane wrapper in his underwear. He's defended militia groups; accused an attorney general of "premeditated murder"; appeared on a Holocaust-denying radio program; waged a one-man war against Alfred Kinsey; compared his constituents—favorably—to Branch Davidians; and traveled to Denmark to protest climate change while wearing a red blindfold.
* RELATED: "Steve Stockman Repeatedly Failed to Report Business Ties and Explain Details About His Income, Houston Chronicle Investigation Shows" (Will Tucker, Houston Chronicle)
* RELATED: "Five Outrageous Outbursts By Senate Candidate Steve Stockman" (Ben Jacobs, Daily Beast)
"Inside The Emerging Deal To Save The Food Stamp Program" (Dylan Scott, Talking Points Memo)
The inability to pass a Farm Bill—and then the subsequent $40 billion in cuts to food stamps—remains one of the primary failures of 2013's historically underperforming Congress. TPM's Dylan Scott has a quick breakdown of the bipartisan, bicameral effort to restore funding to food stamps: the proposed compromise would reduce the cuts in the program to around $8 billion, leave everyone on the rolls, and close loopholes to lower the federal government's outlays. Now the evergreen question: can it pass the House?
"Yes, Obamacare is Redistribution—But Republicans Are Wrong About Who Pays" (Jonathan Cohn, The New Republic)
TNR's Jonathan Cohn has stalked the Affordable Care Act more closely than almost anyone out there, and should be one of your go-tos for discerning between superficial talking points and substantive reality. Today he addresses the "redistribution" arguments that critics have settled on as one of the main critiques of the law:
One thing to remember is that, fundamentally, health care reform has always been about a vulnerability that the poor and the middle class share. In the old days, before Obamacare, just about anybody could end up without health insurance, which meant just about anybody could end up ruined because of medical bills. The simplest way to describe Obamacare is as a transfer from the lucky to the unlucky. And when it comes to health, you don't have to be poor to be unlucky.
"In GWB Hearing, 'Aberrant' and 'Illegal' Lane Ploy by Christie Men Draws Fire" (Andrea Bernstein, WNYC)
This ain't good: suspicion is mounting that a significant lane closure on the George Washington Bridge last year—which caused traffic snarls for a week straight—was political retribution by Chris Christie's administration against a Democratic New Jersey mayor who had refused to endorse him. Christie has mouthed off on the record about the charges, but now subpoenas have been issued…
[Image via Gage Skidmore, Bob Daemmrich]
——
>> Follow Evan McMurry (@evanmcmurry) on Twitter
Have a tip we should know? tips@mediaite.com