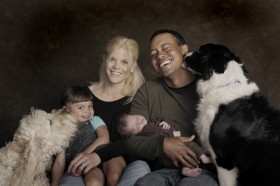 Tiger Woods crashed last week, and in the media, he got burned. Now he's admitted to "transgressions" – as numerous women, from NYC to Tool Academy are coming out of the woodwork. TMZ is pretty much in Michael Jackson mode.
We've heard from Tiger, over the web, but we haven't seen him (or his family) since it all went down. It's time for Mediaite Oddsmakers, to find out where he shows up first.
• Oprah Winfrey: 4:1 — If Woods wants to make a splash, here's his best chance. And when you're arguably the biggest sports star in the world, and one who's worth more than a billion dollars, what better place to say your apologies and explain your situation than a friendly fellow billionaire's couch. Plus, his wife could certainly play a key role here. If it's good enough for Sarah Barracuda…
• ESPN: 7:1 — Woods has the connections with ESPN, the Worldwide Leader in Sports, and they're likely already working the publicists to try to secure interview #1. He's done many interviews with ESPN over the years, including a recent "Sunday Conversation" and he'd likely have his choice of who conducted the interview. Some have hinted ESPN went easy on Woods, toeing the PR line for longer than other outlets about the crash and the potential of extramarital affairs. Could they get rewarded by the golf superstar?
• ABC: 9:1 — ABC would be the broadcast arm of ESPN, and this would give potentially more exposure to the interview. He could sit down with Barbara Walters, or give an early exclusive interview to whoever takes over for Diane Sawyer on Good Morning America. ABC airs its fair share of golf events as well.
• Press Conference: 12:1 — If he went the Alex Rodriguez route, he could handle the news more on his own. When he's ready, he calls a press conference, makes a statement, takes a few questions and closes the book on the story. This is a usual occurrence in sports, but Tiger is not the usual athlete. There's no guarantee this would satisfy those who want answers, and it might have to lead to even more interviews.
• New Media: 18:1 — What if he took the story under his control completely. Woods has a very active, comprehensive website, with video and more. He is his own brand already, so why not be his own PR response. If he, and maybe his wife as well, settle down for an interview on his website, with the interviewer of his choice, he could control the message more so than any other situation. It won't satisfy the appetites of the hungry media, but it may be enough for his fans and other sports viewers.
• Larry King: 32:1 — Tiger's sat down on CNN with King before, although it has been a few years. Others have gone to King first because they know they won't be pressed too hard, and his audience is still wide enough for it to be disseminated around the media. Still, does one of the top athletes of all time go to cable news to tell his story?
• 60 Minutes: 40:1 — Tiger Woods has appeared on the highly-rated CBS newsmagazine before, but it was an interview with Ed Bradley. Would he feel comfortable going back? One option would be with CBS Sports golf analyst David Feherty – a good buddy of his. It would be a big opportunity for Feherty, and for CBS News.
• Bob Costas: 45:1 — Costas and NBC have to be thrown into the mix. If NBC Sports gets the interview, look for Costas as the guy to do the interview, even if it takes place during the Today show or another program.
• Golf Network: 75:1 — Hey, it's another NBCU channel! (Sort of – a Comcast cabler.) It's golf right? They're likely trying hard for the interview, but they probably don't have much of a shot.
• Jim Brown: 120:1 — Check it out: one of the only times Tiger Woods has been involved in any minor controversy before he crashed his Escalade into a fire hydrant concerned some negative comments by former NFL star Jim Brown. Here's the backstory. The comments were made on HBO, so a pay cable sit-down between the two could be legendary, interesting and ultimately put to rest two major stories (and long-standing Woods storylines) at once. It's not likely, of course, but as Woods' silence continues, the speculation will continue to expand.
—–
» Follow Steve Krakauer on Twitter
Have a tip we should know? tips@mediaite.com