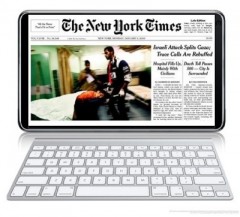 Has the time finally come? Ever since the economy became real reality in the media world — sometime in October of 2008 — there has been plenty of inside chatter and speculation about how the New York Times was going to pay for itself. While other papers made huge cuts, and magazines folded, the NYT, for all its own speculation and 'Talk to the Newsroom' pronouncements (paid content etc.) has remained comparably unscathed (though some of its readers, ahem, are still smarting from its decision to cut the City Section).
Earlier last month managing editor Bill Keller in one of his "chats" revealed that the Times may be considering cutting some of its web content as a cost-cutting measure. Before panic ensures, however, what I noted at the time still holds: the NYT.com has surplus of blogs — whereas many papers avoided dipping too far into the deep scary ocean of the Internet, the Times jumped in the deep end.
According to the Observer, those cuts are likely to come before the end of the year (though really, how frequently have we heard that). So what will be cut? Probably a bunch of stuff you have never heard of (I'm not even sure the NYT could name half the blogs it's launched). What won't be cut are the blogs people have come to depend on — if you can name it, it's probably sticking around: The Caucus, Media Decoder, Deal Book, The Lede etc. Fear not, this is going to be a (very necessary) pruning, not some kind of massacre.
Have a tip we should know? tips@mediaite.com