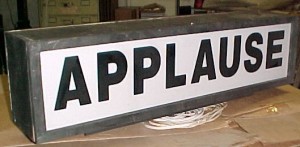 Oh what a month of March we had! And no, we aren't talking about that March Madness nor how we finally remembered the proper order of the lamb and lion weather metaphor. Nope, March was great for us because again Mediaite had record breaking traffic.
If you are reading this, you have already revealed yourself to be a person of discriminating tastes (or you're my mother.) More importantly, you also already know that we like to consider ourselves the website of, and about the media. And last month Mediaite continued its unprecedented growth as measured by both unique visitors and page views for March of 2010. In its eighth full month in business, Mediaite had 1.3 million unique visitors (according to Google Analytics and Quantcast), with well over 5 million page views. If you include our syndicated content, our unique visitors surpassed a whopping 4 million visitors.
Very impressive numbers to be sure, but for many, these traffic boasts can be illusions. When you consider that none of this traffic has come from a marketing or promotion campaign, nor do we have any content partnerships with Internet motherships like Yahoo, AOL or MSN or any other media outlet that is required to send us traffic …well, suffice it to say, we now use duct tape to keep our our own socks from being knocked off.
Some highlights from the last month on Mediaite include the breaking the story of the ABC News cutbacks and original video interviews with NBC News' Chuck Todd and CNN's John King that made big news and were linked to by many of the largest media entities. We even saw the NY Times do a piece on bloggers that featured our own Steve Krakauer.
We also launched a new sister site Styleite, that — against impossible odds– offers both brains AND beauty. And our geeky lil bro Geekosystem brings the hipster cool (and also incredibly impressive traffic) covering geek culture.
Perhaps most impressive is that Mediaite founder Dan Abrams somehow still (yup, still) maintains his role as NBC News Chief Legal Analyst and yet still finds time to copy edit every single post on all the sites. Okay, that's a joke, but every once in a while he does call about a typo.
Thanks to everyone who visited the site this month and let me particularly suck up to those who linked to us, particularly the very large sites with devoted followings. Madames and Sirs, your sites are amazing not just in their uncanny ability to cut through the malarkey and tell us what is really happening in the world, but your physical beauty continues to astound. You also have terrific taste in your friends. Also, have you lost weight? You look great!
Seriously, we hope you return and that we can continue to make our loyal audience smarter, more attractive and strengthen their secret powers.
(All visitor statistics from Google Analytics, Quantcast. Pageviews from internal server data.)
Have a tip we should know? tips@mediaite.com
Colby Hall - Founding Editor