Meet Melissa Francis, The Fox & Friends Interim Host Who May Have Inspired A Certain 30 Rock Character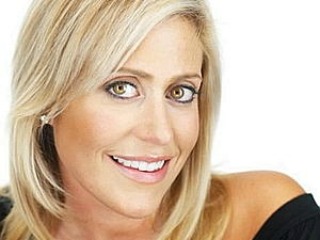 If you started your day with Fox & Friends this morning, you most likely 1) got your week's worth of bare-chested politicians on vacation and 2) noticed a new person sitting on the curvy couch.
RELATED: Exclusive: Melissa Francis To Debut On Fox Business Network On Monday
Sitting in for regular host Gretchen Carlson this morning was Melissa Francis, who has ventured from local news to CNET to CNBC to Fox Business Network, joining Fox News' more business-oriented sister station earlier this year after having earned the nickname "Empress of Energy" for her extensive coverage of oil and commodities. You might remember her specifically from the time she informed Morning Joe host Joe Scarborough that he was "part of the problem" for downplaying the Occupy Wall Street movement.
RELATED: CNBC's Melissa Francis Tells Joe Scarborough 'You Are The Problem' For Downplaying Occupy Wall Street
Let's find out a little more about her, shall we?
According to a Q & A conducted by The Detroit News, we learned that she's been rumored to have been the inspiration behind 30 Rock's Avery Jessup, my favorite sitcom character to come along in a very long while — in this world, we're either a Liz Lemon or an Avery Jessup. Or possibly a Jenna Maroney crying softly into a feather boa in a stranger's bathtub.
Here, Francis offers her reaction to being "the real-life" Avery:
I'm flattered. The funny thing is, I was supposed to go to North Korea for a story five years ago but couldn't go because I was pregnant with my first child. When I was at CNBC, we all wanted to be on "30 Rock." Like everybody else, I was constantly angling to get on the show. I wanted to be Jack's love interest but I can see why they went with a professional actress.
Also worth noting? Francis is a former child actress, having appeared in a little show you may have heard of, perhaps: Little House on the Prairie. "It was a lot of fun," she recalls of the experience. And, yet, while acting helped pay for her college education, it "didn't prepare me for broadcast journalism. It's a whole different skill set. When you're an actor, you're at the whim of the writer; but when you're an anchor, it's just you. My first job right out of college was for a tiny station in New Hampshire and I was like a deer in headlights. It was just awful."
Francis' Little House past is now making it difficult for the anchor to choose a favorite among the latest Dancing with the Stars cast. "Melissa Gilbert is my former co-star from Little House on the Prairie," she says, "but Maria Menounos is a friend in the business. I'm going to be torn. I'll root for them both."
Watch for her to return to Fox & Friends tomorrow morning. To hold you over, here's a clip of Francis and her temporary co-hosts on the curviest of morning show couches:
h/t The Detroit News
Have a tip we should know? tips@mediaite.com