Melania Trump Hits Back at 'Inaccurate Reporting' on Legality of Her Immigration to America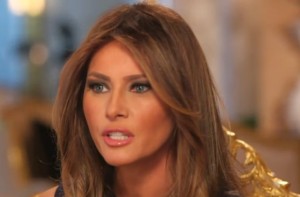 Donald Trump's wife and potential First Lady Melania Trump is responding to what she calls the "inaccurate reporting" that has raised questions about the story of her immigration status when she came to America.
New York Post recently unearthed a collection of nude photographs from Mrs. Trump's former career as a model. Reports noted that the photos were taken in the United States in 1995, however, which presents an inconsistency in her biography about how she became an American citizen.
Indications are that Melania Trump came to the U.S. in 1995 on a short-term visa that would not have allowed her to legally work as a model. As Mediaite's Alex Griswold noted: "the way she describes reapplying for her visa by leaving the country and reapplying in Europe every few months are not consistent with an H-1B working visa, which lasts three years and can be renewed in the country."
Trump's representation of her status before she went through the citizenship application process means that her modeling work could have designated her as an illegal immigrant who could be open to legal repercussions. Trump decided to respond to the reports today with a statement on Twitter.
— MELANIA TRUMP (@MELANIATRUMP) August 4, 2016
In recent days there has been a lot of inaccurate reporting and misinformation concerning my immigration status back in 1996. Let me set the record straight: I have at all times been in full compliance with the immigration laws of this country. Period. Any allegation to the contrary is simple untrue. In July 2006, I proudly became a U.S. citizen. Over the past 20 yeas, I have been fortunate to live, work and raise a family in this great nation and I share my husband's love for our country.
[Image via screengrab]
— —
>> Follow Ken Meyer (@KenMeyer91) on Twitter
Have a tip we should know? [email protected]