Melissa Harris-Perry Deserves Praise For Staying True to Her Standards Above Air Time and Ratings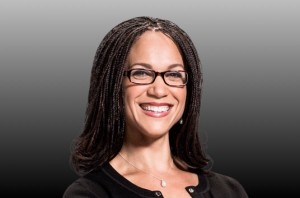 Last week, MSNBC host Melissa Harris-Perry effectively walked off her own show, citing the network's preemption of her program around election coverage as part of her motive. She suggested that racist decision-making from network bigwigs Andy Lack and Phil Griffin prompted the 42-year-old to walk away, writing in a letter to her staff, "I will not be used as a tool for their purposes. I am not a token, mammy or little brown bobble head. I am not owned by Lack, Griffin, or MSNBC. I love our show. I want it back."
To be sure, that program — Melissa Harris-Perry — was the exception to typical cable news programming, a place where heady issues of diversity could come together to engage in a neo-progressivism platform. Harris-Perry does not fit the mold neatly outlined by most of her cable news peers at Fox News, CNN, or even her now former employer, MSNBC.
"After four years of building an audience, developing a brand and developing trust with our viewers, we were effectively and utterly silenced," she wrote of an MSNBC that is trying, and failing, to compete in the ratings game with the other networks running laps around the side-Peacock.
During one recent segment discussing the backlash to Beyonce's "Formation" music video and Super Bowl halftime performance, MSNBC clearly was more devoted to the election. As The New York Times laid out this weekend, "[Harris-Perry] wound up discussing the video anyway but as she did, video of Jeb Bush and Chris Christie rallies in New Hampshire appeared in a box, a notable juxtaposition for a network that is now emphasizing round-the-clock election coverage."
Predictably, a cacophony of voices — nearly all of them from the right, and nearly all of them from white conservative men — have chosen to decry Harris-Perry's actions as childish, petulant, and selfish. My colleague Joe Concha right here at Mediaite called it, "A complete meltdown by someone who really should know better," and went on to highlight that MHP had the "perfect career": university professor, The Nation columnist, and host of her own show. Concha said she "played the race card from the bottom of the deck".
With all due respect to Mr. Concha, and the aforementioned legions of critics who think they know what's best for Melissa Harris-Perry, the road you have walked is not the road she has walked. A white male's definition of "success" in political media is not necessarily hers. Melissa Harris-Perry's stance as a black woman engaged with issues of social and racial division and derision have driven her own brand of identity politics, and she has earned that right.
The Harris-Perry legacy is ripe for the Drudges, the Breitbarts, and the Fox Newses to lick their chops over. She is a vocal liberal black woman who, yes, at times may have had questionable moments of delivery that political media spaces, including this one, have exposed and ridiculed. She's been derided for equating the term "hard-worker" with slavery, and seems to represent all of the overly-sensitive trumped up micro-aggression diversity-driven nonsense that the right loves to hate.
Say what you want to about MHP, but the very convictions with which has earned derision amongst the right-of-center columnists is nothing short of admirable among her base. She claims that the integrity of her program was compromised while a free-falling network chased ratings over substance. Do you agree with her? Probably not. Hell, I don't even agree with everything she's done on-air, but you're missing the point if you think she's deserving of criticism here.
I attended The Nation's 150th Anniversary in Brooklyn in the fall (cohosted by Chris Hayes), and I watched Harris-Perry engage with a crowd of like-minded progressives in a truly free forum. She noted, unabashedly, that the crowd was heavily in favor of Bernie Sanders, and that the publication was one committed to ideals of righteousness, inclusion, and a true betterment of our political process. It's a commendable ideal in our fractured landscape, and MHP seemed "at-home" in the setting, even going as far as to note how MSNBC (though she wouldn't identify the net by name) was now in the business strictly of chasing ratings. I remember Hayes distinctly issuing a cautious "Be careful" to his colleague on-stage that night to nervous laughter, understanding that his role as primetime host prevented him from following suit as aggressively (and perhaps truthfully) as Harris-Perry.
But what was very clear that evening was this: biting her tongue, playing the game, and going against her values were simply not things Melissa Harris-Perry had any interest in doing. Only fools who dream of cable news glory would think it's worth it to sell your soul for a scratch of air time.
She used her show to have conversations so deeply-engrossed in diversity that they make the white guilt population of our industry recoil in horror, and snarky bloggers (mostly white men) with a keyboard have buried her under what they think is the right way to handle diversity and race on cable television news.
Perhaps it was an "acquired taste", or perhaps the content of Melissa Harris-Perry was just too niche for the blowhardian silliness the networks seem to gravitate toward to bring in ratings. But in any case, MHP deserves, at the very least, a modicum of appreciation and applause for standing up for what is right. In an industry where many people are willing to cast aside their personal belief structure for a few segments of airtime or column space, Melissa Harris-Perry bucked the trend in a defiant way driven by principle, and in doing so, has earned my respect and applause.
—
J.D. Durkin is the Senior Editor of Mediaite.
This is an opinion piece. The views expressed in this article are those of just the author.