Melissa Harris-Perry Gently Blasts Jezebel For R. Kelly 'Black Panties' Article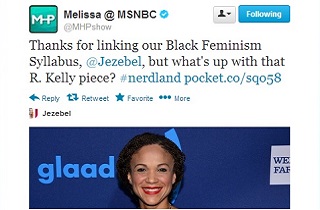 Feminist blog Jezebel incurred widespread social media wrath Monday over its positive review of R. Kelly's Black Panties, which they called "a Magnificent Ode to Pussy," and not just for putting the image of George C. Scott's Patton admiring the strategic cunning of pussy into our heads. The article was sarcastic in tone, but it failed to mention Kelly's history of sexual exploitation at all. While not everyone was so kind, MSNBC host Melissa Harris-Perry included a gracious thank-you with her critique of the site's editorial decision.
The review, by Jezebel's Isha Aran, straddled the line between mock praise and backhanded promotion, sarcastically noting the touching qualities of Kelly's opus, while also providing promotional details:
Everyone's favorite masterful weaver of stories, Robert Sylvester Kelly, has blessed us with an 18-track opus, winding his musical threads on his freaky sex loom, and you can stream it in it's spectacular entirety over at Vibe.

Of course, no song quite reaches the heartfelt poignancy of "Marry the Pussy," a song which not only boasts repeating the word "pussy" 56 times, but also is an actual proposal song to a woman's sex organs. Yes. A marriage proposal to a pussy. And one that will undoubtedly usurp the stronghold Train's 'Marry Me' has on the first dance at far too many weddings.

"Black Panties"/the Gilded Age of SEXY SEXY EMAN-SEX-PATION drops December 10. Mark those calendars.
A good sampling of the reactions are available in the Twitter timeline of This Week in Blackness' Imani Gandy, such as:
Imani ABL: I'd scream, but I'm boarding a plane. RT @graceishuman: Wow, the latest bit of shameless Jezebel clickbait is legitimately stomach turning.

A$AP Feminist: The #FastTailedGirls discussion is no more relevant than this very moment, as Jezebel salutes and praises the work of R Kelly.

A$AP Feminist: Had R Kelly's victims been White teen girls, 1. He would have been hung by his balls 2. No publication would ever promote his "ode to pussy"

Lauren Chief Elk: DO NO CLICK THE LINK AND GIVE THEM PAGE HITS but @Jezebel is literally telling Black women/girls "F you":

Jamilah Lemieux: It's 2013 and I still have to explain to people why I have issues with R. Kelly. Guess we need a White victim to emerge so folks will get it

Fat, Black, & Geeky: If this shit right here don't show you that @Jezebel don't give not nary a fuck bout Black girls, I don't know what will.
…and much, much more. MSNBC's Melissa Harris-Perry also weighed in, thanking Jezebel for praising her MHP Black Feminism Syllabus, but asking "what's up with that R. Kelly piece?"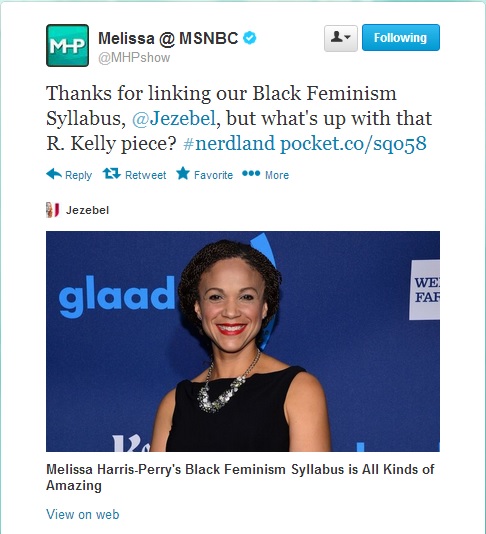 The site didn't reply, and has yet to address the controversy on its Twitter feed, or the site.
Have a tip we should know? [email protected]