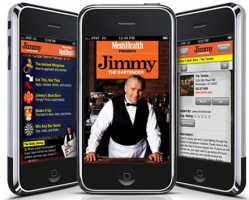 As we've reported before, magazines have been running to build iPhone applications to maintain both revenue and relevance in the digital age. Men's Health has been a leader in this trend, and appears to have taken the next logical step by porting their very popular "Jimmy the Bartender" column to the iPhone, promising to help users "find Jimmy's best bars" but also "Meet Women."
The Jimmy application costs $2.99, and promises the folllowing: "Jimmy the Bartender serves up his legendary no-nonsense answers to hundreds of life's questions, a GPS-enabled guide to his favorite watering holes near you, can't-lose tips for approaching any woman, cocktail recipes, Eat This: Not That! At the bar, and dozens of other features."

New Media expert Steve Outing offered this:
So let's assume that there is a market of iPhone-toting men who would find the Jimmy app worth 3 bucks for such features as the "Ultimate Wingman,"… Dial in your social situation or dilemma and Jimmy dispenses some advice on how to approach the desired woman. It doesn't do much for me, but with the promotional power of Men's Health magazine's printed edition, I bet some decent money will be made from guys buying the Jimmy the Bartender app.

If Men's Health is ahead of the curve on this, it's in taking a media personality and turning him into a phone app. It makes sense. If I'm a fan of Jimmy's feature in the magazine, I might be inclined to pay a few bucks for his phone app; whereas, a Men's Health iPhone app holds less appeal since I can just visit the magazine's website on my phone's browser for free.
This is exactly the sort of forward thinking that will move the magazine publishing forward in the digital age.
Have a tip we should know? tips@mediaite.com