Men's Health's Dave Zinczenko Passes Wired's Chris Anderson In Twitter Followers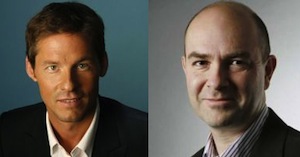 In this fast-paced digital era, it seems like there's a new technological advancement every single day. However, only a few of them live longer than a couple of quick posts on the tech blogs (like, say, the wonderful Geekosystem!) and make it into the public consciousness, there to stay. But when do we officially know when new technological advancements have officially broken through? When the majority of the users are no longer the proudly nerdy "first adapters" but the regular mainstream folks.
Case in point? Dave Zinczenko, the Editor in Chief of mainstream Men's Health, recently overtook Chris Anderson, the Editor in Chief of the tech-savvy Wired, as the Magazine Editor with the most twitter followers. Looks like the nerds are going to have to find the next big battleground to have their revenge on, and we're going to have to update the Power Grid.
Why is the number of Twitter followers that a couple of magazine editors have important? Well, it's not just a brand new metric of reach, audience and impact – numbers that are notoriously relevant in the world of magazine publishing. But its particularly interesting given who these two are: Anderson edits arguably the preeminent technology publication in the country, whereas Zinczenko oversees a magazine that has a much broader audience, and heretofore, one that had no clear and endemic connection to the Internet.
By overtaking Anderson, Zinczenko illustrates that the majority of Twitter users aren't just computer, technology or social media fans, they're consumers who read Men's Health. Further, Men's Health will soon begin incorporating selections from Zinczenko's Twitter feed into his monthly letter from the editor entitled "The Tweet Life." The Internet connection to Men's Health is now endemic – just as it should be for every magazine title, particularly in the service space.
Twitter is still only a few years old (relatively ancient in technology time) but it's soon going to become hard to remember a time without it. And magazine editors like Zinczenko and Anderson have been real pioneers, not just because they adapted well, but incredibly effectively.
Have a tip we should know? tips@mediaite.com