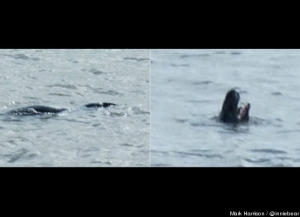 Summer is here, friends! And that can only mean one thing. Well. Maybe two things: Horrific heat rash! And also weird animal sightings reported by the media in an effort to make your endless, sweltering work week go by just a wee bit faster.
First, a history lesson.
In July of 2008, Gawker was all over a story about a mysterious… thing… that washed up on a Long Island shore. Dubbed the "Montauk Monster," the hairless creature had four legs, a tail, and a beak-like mouth. Speculation had the animal pegged as everything from a skinned raccoon, to a turtle without its shell, to a Dr. Moreau-style mutant experiment escaped from the nearby Plum Island Animal Disease Center, to a prop from a movie set.
In September of 2009, another creature captured the nation's collective heart even as it gently tested its collective gag reflex. This monster, also an odd-looking, mostly hairless carcass, was known as "The Panamanian Blue Hill Monster" or, as one creative Latina blogger dubbed it, the "The Panamaniac." It was assumed that the creature was a – totally boring – sloth, and not some sort of alien leader.
This year's hellish abomination? The "Mersey Monster." The creature was so named because it was first spotted by a man named Mark Harrison on the River Mersey. And it will consume your children. Maybe. Or not:
"At first, I thought it was a seal," Harrison told The Liverpool Echo.

"Then it disappeared under the water for a few minutes, coming back up further upstream and quite a bit closer," Harrison recalled. "It was quite long and looked to be moving around slowly."

When Harrison posted his "Mersey monster" images online, he said, "Now look — I'm that bloke who thinks he's seen Nessie, " referring to the legendary Loch Ness Monster of Scotland.
Wildlife experts are more inclined to believe the creature is a basking shark or a harbor porpoise.
Then there's the matter of the odd, vaguely log-like thing that recently washed up near South Street Seaport's Pier 17 in Manhattan. Although some thought the creature to be a giant, flesh-eating demon monster spewed forth from the darkest pits of Hell, the 6 or 7-foot-long creature is actually a bony-plated Atlantic sturgeon. Meh.
h/t Aol
Have a tip we should know? tips@mediaite.com