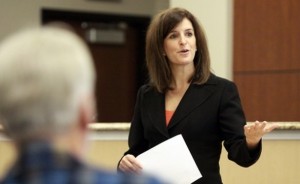 "If I can't say the word vagina, why are we legislating vaginas?" Michigan State Rep. Lisa Brown asked after being barred from speaking on the House floor. On Wednesday, Brown gave a speech against a bill that would restrict abortions, ending her remarks by uttering the anatomical term "vagina."
Brown was speaking against bill, arguing it would infringe upon her Jewish beliefs that abortion is acceptable when it would save the life of the mother. She ended her remarks, saying, "Finally, Mr. Speaker, I'm flattered that you're all so interested in my vagina, but 'no' means 'no.'"
House Republicans didn't take it well. "What she said was offensive," said Rep. Mike Callton (R-Nashville). "It was so offensive, I don't even want to say it in front of women. I would not say that in mixed company." According to Ari Adler, spokesman for the Republican majority, Majority Floor Leader Jim Stamas said Brown's comments violated decorum of the House. Brown wanted to voice her opinion on a school employee retirement bill.
At a Capitol Hill press conference on Thursday, Brown asked, "If I can't say the word vagina, why are we legislating vaginas? What language should I use?" She noted it's the "medically correct term," adding, "We're all adults here."
State Rep. Barb Byrum was also denied speaking on the floor today, after protesting not being allowed to introduce an amendment to the abortion bill that banning men from getting a vasectomy (unless it's to save the man's life). "If we truly want to make sure children are born, we would regulate vasectomies," she said Thursday.
(H/T Detroit News)
Have a tip we should know? tips@mediaite.com