Michael Bloomberg Doesn't Appreciate Occupy Wall Street's Bashing Of Hardworking People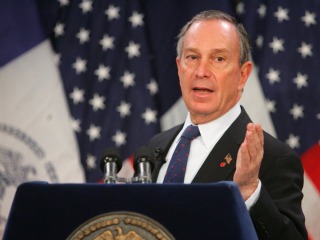 New York mayor Michael Bloomberg made the news late last week when, during his weekly call-in radio appearance, he opined that the Occupy Wall Street protesters are attempting to "take the jobs away from people working in this city." The Mayor then advised those participating in the protests to channel their collective frustration towards Washington instead of towards banks and corporations if they wanted to create some real, lasting changes.
And it would appear, judging from comments he made today during a press conference held at Bronx library, that the Mayor hasn't changed his mind:
RELATED: Mike Bloomberg's Advice To Occupy Wall Street: Focus On Government, Not Banks
I don't appreciate the bashing of all the hardworking people who live and work here and pay the taxes that support our city. The city depends on Wall Street. Let's not forget, those taxes pay our teachers, pay our police officers, pay our firefighters. Those taxes we get from the profits companies and the incomes, they go to pay for this library.
Despite disagreeing with the protester's methods and messages, however, Bloomberg has been adamant that they should be permitted to demonstrate and exercise their right to free speech. But how does he feel about this afternoon's so-called "Millionaire March," which found protesters marching up to the Upper East Sid in order to picket in front of the homes of the city's wealthy, including JP Morgan Chase CEO Jamie Dimon? He's not exactly down with it. As the kids say, probably:
RELATED: Lobby Groups Plan 'Millionaire March' To Bring Occupy Wall Street To The Wealthy's Doorsteps
Jamie Dimon is one of the great bankers. He's brought more business to this city than any banker in (the) modern day. To go and picket him, I don't know what that achieves. Jamie Dimon is an honorable person, working very hard, paying his taxes.
h/t NY Post
Have a tip we should know? tips@mediaite.com